Resolution Games announced it is no longer running Facebook's advertisement test on its virtual reality game "Blaston" after being hounded by negative reviews. However, the developer clarified it is not completely backing out of the ads experiment.
"After listening to player feedback, we realize that 'Blaston' isn't the best fit for this type of advertising test," the developer wrote on the game's official Twitter page on Monday. "Therefore, we no longer plan to implement the test."
To those not familiar with the game, "Blaston" requires an online connection to let players duel with bots and other players using their assembled loadout weapon. The game offers tournaments and various game modes, including arcade matches. It is sold for $9.99 on the Oculus Store and Steam.
However, Resolution Games also clarified it is not completely backing out from the Facebook ads test. In a follow-up tweet, the "Blaston" developer said it is planning to run the experiment on its free-to-play app "Bait!"
Facebook-owned Oculus announced on June 16 that it is going to test in-headset ads after adding them on the Oculus mobile app. In the same blog post, the VR company confirmed the experiment will start with "Blaston," along with "a couple other developers" in the coming weeks. The company promised to practice its existing privacy policy that stipulates it will not use data processed and stored locally in the VR headset for targeted ads.
However, the announcement sparked a wave of negative reviews on "Blaston's" Oculus Store and Steam pages. Most of the fans who expressed disappointment over the Facebook ads test pointed out that having in-headset ads on a paid game did not sit well with them.
One of the recent 1-star reviews on Oculus Store suggested Resolution Games should instead introduce DLCs if the goal is to help the app grow. The common response of the developer at the time insisted that the Facebook ads test will be a "shorter temporary" run and was not planned to be a permanent feature. Resolution Games also said that players can request a refund if they "feel strongly" about the issue.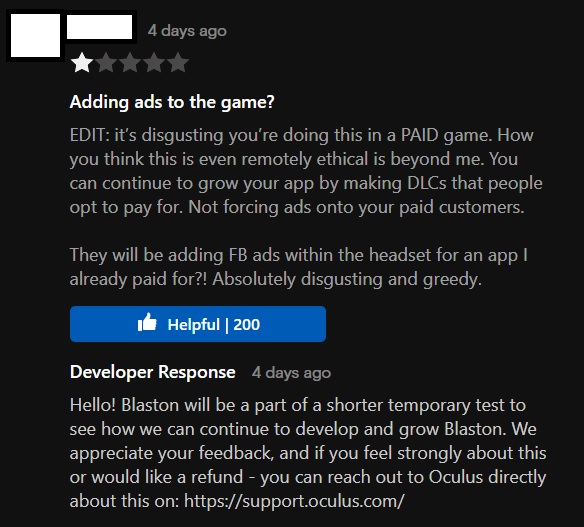 From Blaston's page on Oculus Store
Steam users have also expressed their dismay over the developer's decision even though the Facebook ads test was not planned to come to Steam. Several reviews mentioned that it does not seem like a good move to introduce ads months after the paid game was released.
Photo by Maxim Hopman on Unsplash