Sony and Naughty Dog have yet to announce if "The Last of Us Part 2" will have a PlayStation 5 upgrade. However, a product listing for the game seems to suggest it could be in the works.
'The Last of Us Part 2' PS5 upgrade underway?
Gamespot reported that "The Last of Us Part 2" was listed on Best Buy's online store with a note that it "includes next-gen upgrade." However, as of this writing, Best Buy appears to have changed that label to "enhanced for next-gen console." The new label is more ambiguous than the reported message and no longer explicitly promises the much-awaited PS5 upgraded. The new wording seems to only promise that the game can be played on the PS5 console, which is already a known fact through backward compatibility.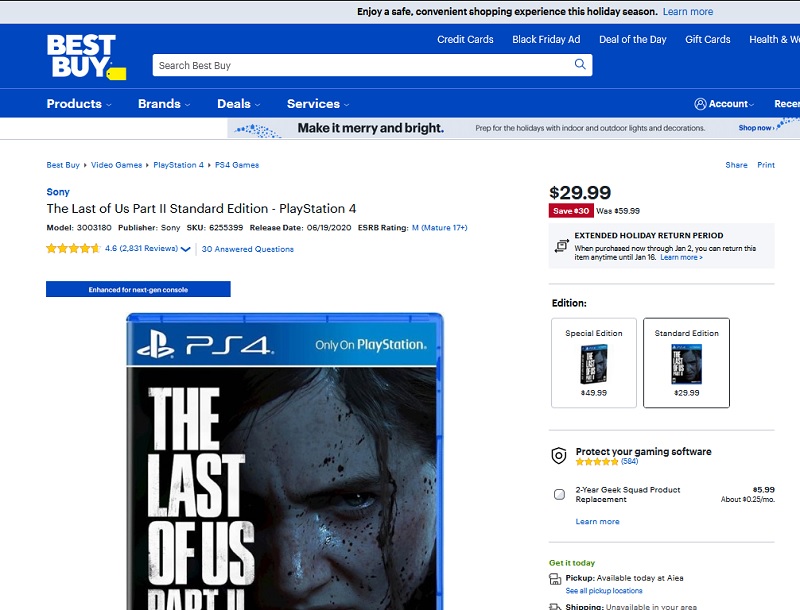 Screenshot from Best Buy
At this point, it is already interesting that Sony is not making any announcements about a PS5 upgrade for "The Last of Us Part 2." Considering that it is one of the biggest games released in 2020, however, having an upgraded version for the sequel cannot be ruled out. The bigger question is whether or not a PS5 upgrade would be released for free. The 2018 PS4-exclusive, "Marvel's Spider-Man," received a remastered version for the new console, but it was not released for free to everyone who bought the original game.
While a PS5 upgrade for "The Last of Us Part 2" is still unannounced, its original version should still play on PS5 with noticeable improvements in the gameplay resolution and load times. GamesRadar also reported that the game plays with some upgraded features, specifically the haptic feedback on the DualSense controller.
'The Last of Us Part 2' bags the most nominations for The Game Awards 2020
Some players think of "The Last of Us Part 2" as one of the most polarizing games of the year. Whatever fans think of its plot, it is difficult to overlook its critically acclaimed gameplay and development. It was then not surprising that the game is one of the six nominees for Game of the Year in The Game Awards 2020.
"The Last of Us Part 2" also received the highest number of The Game Awards 2020 nominations after being considered for 10 major awards. The game has a chance to win in the Best Game Direction, Best Narrative, Best Art Direction, Best Score and Music, Best Audio Design, Best Action/Adventure, and Innovation in Accessibility categories. Ashley Johnson and Laura Bailey have also been nominated for the Best Performance award for their roles as Ellie and Abby, respectively.