Stellar Lumens (XLM) has surpassed 1,000,000 accounts milestone on its ledger, according to the latest data from Stellar Expert – the block explorer and analytics platform for Stellar Network.

XLM is currently the sixth most valuable cryptocurrency by market cap and is trading at $0.22 levels at the time of writing.

According to the data, the network had over 160k accounts on its ledger at the beginning of the year has added over 370k accounts in August itself and counting.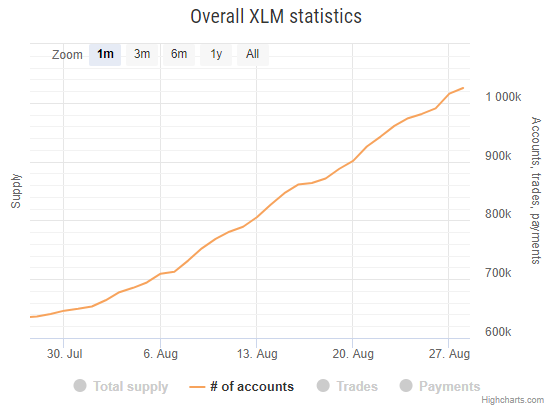 BCFocus noted that the drop in the trading figures – the total number of trades which peaked at 265165 in May 2018, stands at 13965 at press time.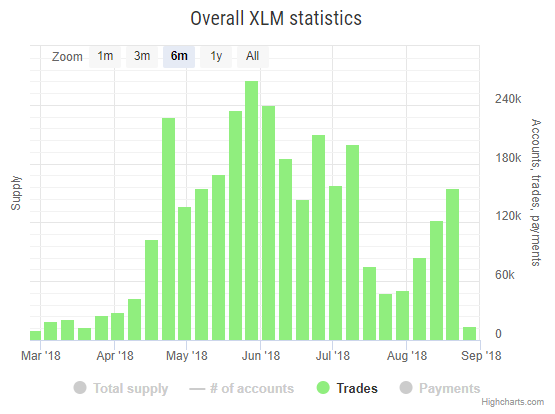 Stellar has been making headlines in the past couple of weeks. TransferTo partnered with Stellar.org last month for facilitating a more seamless and efficient settlement method between its network partners. In the same month, KODAKOne also announced that it will develop its payment solution using the Stellar platform.

Earlier in May, tech giant IBM tapped the Stellar platform for issuing a crypto token. IBM, in partnership with Veridium Labs, aimed to "transform carbon credits into a new type of fungible digital asset that can be redeemed and traded on the Stellar network with less friction."

Huobi added support for Stellar Lumens last month, while Coinbase announced that it is considering adding support for the cryptocurrency on its platform.