Most people may not have expected it, but Nintendo Switch became one of the in-demand products as most placed went into community quarantines and lockdowns amid the COVID-19 pandemic. This issue got a little out of hand, especially when all people could find are overpriced consoles from resellers online.
Nintendo Switch stocks: Where to buy the portable console for the right price
As it turns out, however, there is an easy and nifty way to see if there is a Nintendo Switch available from authorized retail stores that sell it for the right price. Be warned, though, this does not mean stores have been able to replenish Switch supplies.
Anyone who does not want to more than the recommended retail price of $299.99, they can proceed to Nintendo.com and onto the official "Buy Now" page for both the Nintendo Switch and Nintendo Switch Lite. Clicking the "Buy Now" button on any Switch variant and model will bring up a list of official retailers that sell the console – based on the buyer's location – and whether there are supplies for pick-up and online purchases.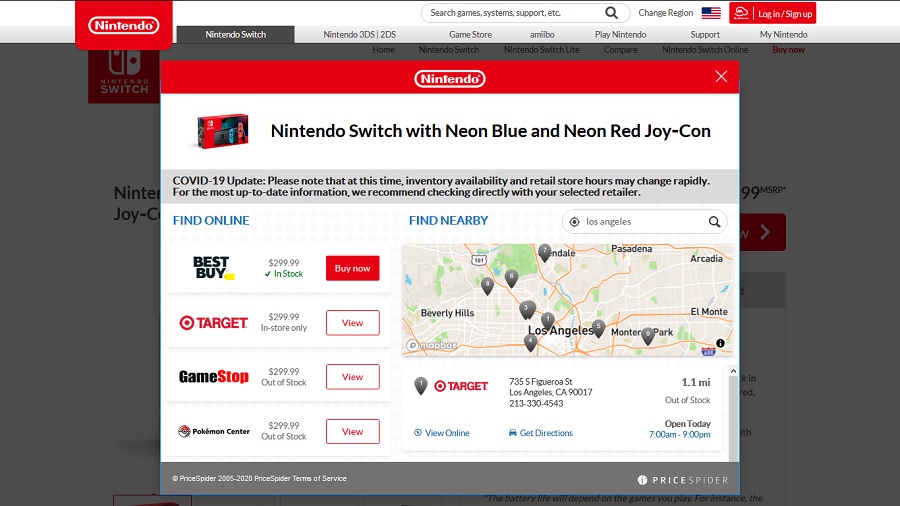 Screenshot from Nintendo.com
The image above shows, for example, people within the Los Angeles area might have a chance to buy Nintendo Switch online. As of this writing, bundle with Neon Blue and Neon Red Joy-Con controllers is still available through Best Buy online store. But if a retailer says it is available for "in-store" purchase, it is advised to call them first.
The same process can be done when searching for a new Nintendo Switch Lite. After a brief search on Nintendo's website, it appears that more retailers have stocks for this model that are available for online orders. Considering that social distancing is still highly advised to prevent the further spread of coronavirus, video game fans are better off opting to buy the console online.
Nintendo Switch: Overpriced consoles proliferate online
Sold-out Nintendo Switch has been an issue to many people ordered to stay in their homes through this COVID-19 ordeal. Unfortunately, it also provided a chance for resellers to jack up the price of the consoles to more than $500.
Logistical limitations have been an issue for several video game companies. This explains why the shortage in Nintendo Switch is still felt today even in regions outside Japan and the United States. Meanwhile, some business experts believe that the lack of Switch available might not be resolved until June.