Music is a fundamental part of society, and it stands as a universal language that is understood everywhere. Whenever humans meet for any reason, there is music. Whether it is to play games, celebrate weddings, mourn in funerals, or have a romantic dinner with a partner. However you look at it, music is sewn into the very fabric of life. Today, music stands as the strongest pillar of the entertainment business, with thousands of songs being released each year. 2019 seems like the year that most people said goodbye to mumble rappers and embraced deep intentional tunes. Here is a look at those that stole our hearts out of the many that graced the airwaves:
1. Motivation – Normani
Normani is predicted to be the next big thing in the pop realm, but none of this comes as a surprise considering her long incubation period in the music industry. The superstar was previously a member of the successful all-girl group Fifth Harmony before breaking up. The singer had already enjoyed two releases after the hiatus that ensued, but Motivation is the first time we have seen her genuinely shine as a solo artist. The tune takes us back to the eighties when Rhythm and Blues fused to become one with pop. The catchy song is accompanied by sexy dance treats that are sure to keep any lover motivated and heads bopping while playing in True Blue Casino.
2. Senorita – Shawn Mendes
The world cannot seem to be quenched of Shawn Mendes, and 2019 only proved to be bigger and better for the star. Senorita lines up as one of the biggest hits by Shawn and focuses on his love for the beautiful Camila Cabello while vacationing in Miami. This song not only earned the singer a Grammy nomination but also saw the two artists fall in love. The process of recording the romantic number saw them rekindle a romance that budded in 2015 while working on their first hit together; I Know What You Did Last Summer.
3. Sucker – Jonas Brothers
The Jonas Brothers are back together, and the internet can hardly contain itself. The three-brother group announced they are reuniting after chasing solo careers for a couple of years with the release of Sucker, and it got us right in the feels. What was even more breathtaking about the song was the fact that they all appeared with the leading ladies in their lives. Nick Jonas serenaded the song's smooth lines to his wife Priyanka Chopra, who is a success in the Bollywood and Hollywood industries in her own right. Danielle Jonas appears alongside Kevin, and they are the longest-running couple of the three having been married since 2009. Joe Jonas brought along his fiancé, who is now his newlywed wife Sophie Turner, and viewers were thankful to see a goofy side to the Queen in the North.
4. Bad Guy – Billie Eilish
Billie Eilish may be only 17 years old, but she has struck a significant chord with the current generation, and as it appears, she is only getting started. The singer first hit mainstream media with her 2016 single Ocean Eyes, and things have only been moving upward for the teen ever since. In 2019, Billie served us several singles, and Bad Guy seems to have everyone talking. In the song, the singer explains how people struggle to explain just how bad and cool they are, even when they are not. In an interview, she states that if you are truly bad, you do not have to tell people because you do the wrong things without even knowing.
5. 7 Rings – Ariana Grande
Ariana Grande has gone from being the silly girl in Victorious to a household name in the music industry. In her song 7 Rings, Ariana reminded us of just how poor we are in comparison to the vast wealth she had amassed over the years. The hit points directly to the seven diamond rings the pop star bought for six of her friends and herself while visiting Tiffany and Co. She also takes the time to inform us that her receipts match the digits on phone numbers, but it is done in such a creative way that one cannot help but dance to the tune regardless.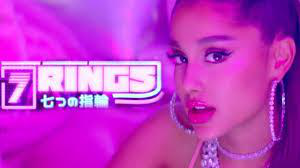 6. Thinkin Bout You – Ciara
Ciara has evolved from her Goodies days to be labelled as an icon and influential force in the music industry. The singer continues to release hit after hit, and this year, she wowed us with the album Beauty Marks. The collection of eleven songs gives fans an inside view of Ciara's personal life as she flexes her ability to jump between pop and RnB. Thinkin Bout You is an exceptionally sexy number dedicated to her husband Russell Wilson. In the song, Ciara confesses that even after years of marriage, she is still madly in love with her man.
Verdict
Like any other major industry, that of music is continuously evolving to bring new tunes or revive those of the olden days. 2020 appears to be a promising year considering all that was provided in 2019.
This article does not necessarily reflect the opinions of the editors or management of EconoTimes.