FxWirePro: XRP/USD consolidates in narrow range, good to buy on dips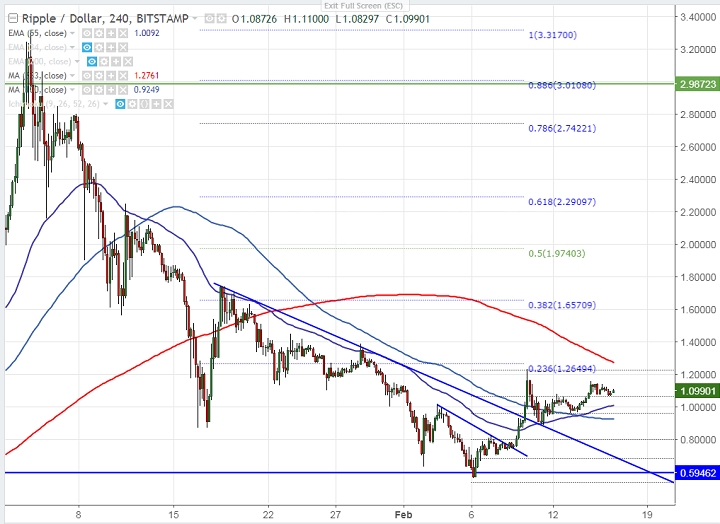 Friday, February 16, 2018 1:49 PM UTC
Major resistance – 1.2700 (23.6% fibo).

Ripple has broken major resistance 1.07800 high made on Feb 12th after a three days of consolidation The pair hits high of 1.15600 and is consolidating in narrow range. It is currently trading around 1.1002.

The pair is trading higher and closed above 100- day MA for the past three trading days. This shows slight bullishness, a jump till 1.5000 (50- day MA) is possible. Any close above 1.5000 will take the pair to next level till 1.7400 (Jan 18th 2018 high)/2. Short term bullishness only above 2.25 level.

The near term support is around 0.9400 and any break below will drag the pair down till 0.87000/0.8000.Any violation below 0.8000 targets 0.6700/0.6100. Major support at 0.490 (233-day MA) is last hopes for bulls. Any violation below will drag the pair till 0.25/0.15 level. The near term support is around 0.87/0.61.
It is good to buy on dips around 1.0450-50 with SL around 1 for the TP of 1.500/1.7400.