Fundamental Evaluation Series: 2-year yield spread vs. GBP/USD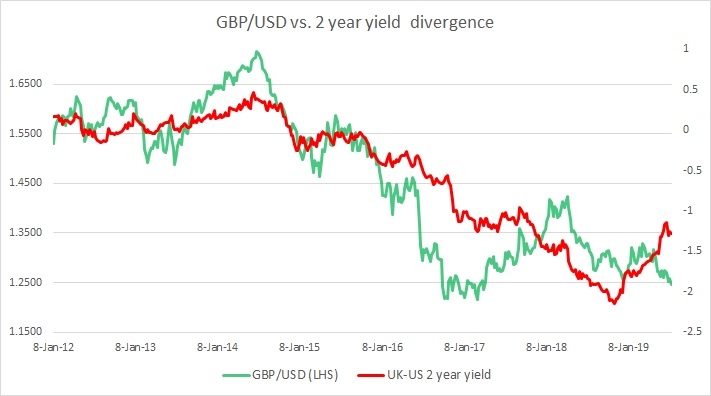 Thursday, July 18, 2019 10:24 AM UTC
The chart above shows, how the relationship between GBP/USD and 2-year yield divergence has unfolded since 2012.
The chart clearly shows the close relationship between the yield spread and the exchange rate. Since June 2014, the yield spread declined from 0.5 percent area to -2.15 percent area by November 2018, and GBP/USD declined from 1.71 to 1.25 area.
In our December review, we noted that since the second week of November, the yield spread has reversed course, and rose from -2.15 percent to -1.9 percent, which suggested there might be a reversal in the exchange rate going ahead, should the spread continue its reversal.
As expected, the exchange rate has reversed course.
Although Brexit updates are causing major moves in GBP/USD, the chart clearly shows that yield spread remains a crucial underlying influencing factor.
In March, the spread has further narrowed to -1.69 percent, while GBP/USD has strengthened to 1.326.
In April, the spread has further narrowed to -159 bps in favor of the pound but GBP/USD exchange rate has declined to 1.308, amid Brexit uncertainty. The narrowing of spread raises the possibility of a further rise in GBP/USD.
In May, the spread further narrowed to -155 bps in favor of the pound, while GBP/USD moved lower. Currently trading at 1.301 area.
In June, the spread further narrowed to -118 bps, but GBP/USD has declined to 1.269 area.
Since June, the spread has actually reversed course as the Bank of England (BoE) signaled possible policy easing. The spread has again widened to -128 bps as of July, and GBP/USD has declined further to 1.246 as of today against the USD.
By Saanando Das