A cryptic Xbox Game Pass teaser on Wednesday is believed to be hinting at "DOOM Eternal's" addition to the video game subscription service. In a Twitter image post, many fans reported they may have found a secret message that reads, "The Slayer is coming."
Xbox Game Pass: Next major addition could be a Bethesda-published game
The tweet in question mainly features an image made to look like an internal memo sent to Xbox Game Pass employees. The message practically says there are more exciting things to be announced after it was confirmed that EA Play is being added to the Xbox Game Pass services. Fans soon pointed out several potential clues that led to the theory that the image could be teasing "DOOM Eternal's" addition to the Xbox Game Pass library.
First, some Twitter users advised looking at the first letter of every sentence in the body of the message. Together, these letters make up the words, "Look below." Even more curious fans then decided to do some basic editing on the image and reported that, after adjusting the brightness levels, a message that reads "THE SLAYER IS COMING" appears below the name of the sender. After testing out the fans' clever instructions through Photoshop, it is proven the image does reveal a hidden message about "the slayer."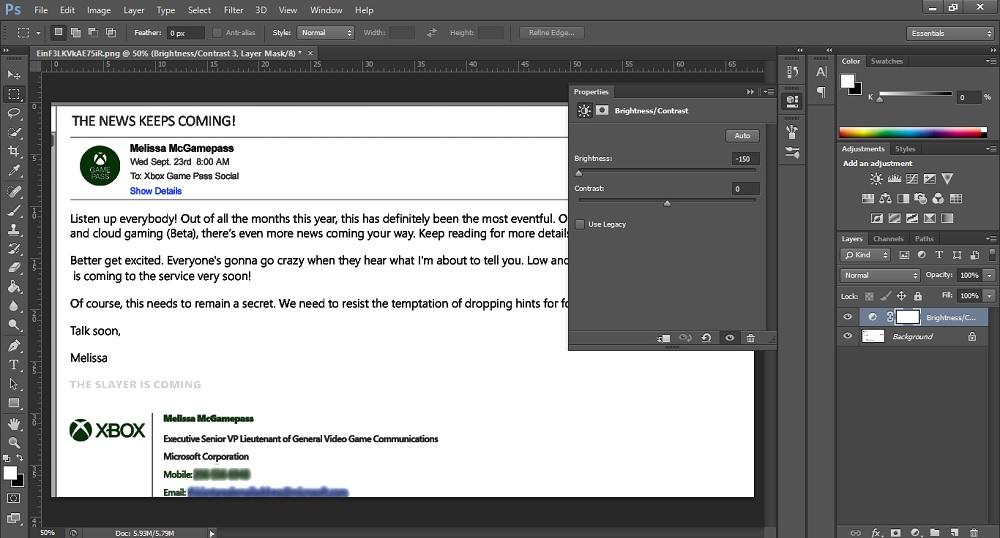 From there, it is no longer difficult to make the connection that the people at Xbox Game Pass is very likely hinting at the addition of "DOOM Eternal" to the subscription service -- the game's main protagonist is commonly known as Doom Slayer. Lowering the image's brightness level and finding out the secret message is cool, but fans should still keep in mind that Xbox, developer id Software, and publisher Bethesda Softworks have yet to confirm these findings.
How Xbox Game Pass benefits from the ZeniMax Media acquisition
The potential release of "DOOM Eternal" on Xbox Game Pass would follow Microsoft's recent acquisition of ZeniMax Media, the video game company that owns Bethesda and id Software, for a $7.5 billion purchase. It is very possible that "DOOM Eternal's" addition to the service was a deal sealed before the major purchase. But video game fans can expect to see more titles under the ZeniMax banner to arrive in Xbox Game Pass in the near future.