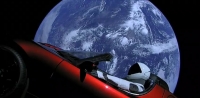 Falcon Heavy: amazing launch – but what about the environmental impact?
Feb 08, 2018 14:10 pm UTC| Insights & Views Technology
SpaceX has now launched the most powerful spacecraft since the Apollo era the Falcon Heavy rocket setting the bar for future space launches. The most important thing about this reusable spacecraft is that it can carry a...