Five reasons to forget Mars for now and return to the moon
Aug 21, 2018 16:24 pm UTC| Insights & Views Science
Hopes of colonising Mars rest on the premise that we could terraform the red planet, making it habitable for humans with a breathable atmosphere and clement temperatures. However, a recent study cast doubt on the idea,...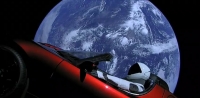 Falcon Heavy: amazing launch – but what about the environmental impact?
Feb 08, 2018 14:10 pm UTC| Insights & Views Technology
SpaceX has now launched the most powerful spacecraft since the Apollo era the Falcon Heavy rocket setting the bar for future space launches. The most important thing about this reusable spacecraft is that it can carry a...