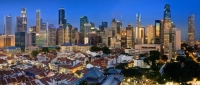 A century of public housing: lessons from Singapore
Aug 01, 2019 04:41 am UTC| Insights & Views Economy
One of the beacons of UK social housing policy, the legislation from 1919 that became known as the Addison Act after its sponsor, the minister of health Christopher Addison, imposed for the first time a duty on councils to...
The economic black hole at the heart of the shift to electric vehicles
Aug 07, 2017 16:02 pm UTC| Insights & Views Economy
The ban on the sale of new diesel and petrol cars and vans from 2040 is perhaps the most significant policy announcement made by the UK government in the past decade (with the possible exception of Brexit). It feels like a...