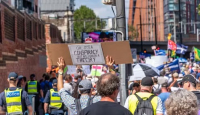 Conspiracy theories aren't on the rise – we need to stop panicking
Jun 21, 2023 07:26 am UTC| Insights & Views
Several polls in the past couple of years (including from Ipsos, YouGov and most recently Savanta on behalf of Kings College Policy Institute and the BBC) have been examining the kinds of conspiratorial beliefs people...

To what extent are we are ruled by unconscious forces?
May 28, 2021 11:22 am UTC| Health
Sometimes when I ask myself why Ive made a certain choice, I realise I dont actually know. To what extent we are ruled by things we arent conscious of? Paul, 43, London Why did you buy your car? Why did you fall in...