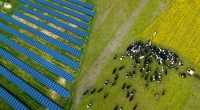 Farmers shouldn't have to compete with solar companies for land
Dec 20, 2021 03:48 am UTC| Insights & Views Economy
When it comes to solar energy, Australia has a huge natural advantage with an abundance of sun and vast, flat expanses of land. This makes it relatively easy to build solar farms across the continent. Some proposed...
San Francisco just banned gas in all new buildings. Could it ever happen in Australia?
Nov 18, 2020 03:32 am UTC| Business
Last week San Francisco became the latest city to ban natural gas in new buildings. The legislation will see all new construction, other than restaurants, use electric power only from June 2021, to cut greenhouse gas...