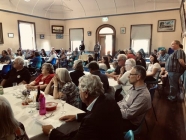 Disaster season is here — do you have a Resilience Action Plan? Here's how the small town of Tarnagulla built theirs
Jan 19, 2021 04:56 am UTC| Life
Heatwaves, floods, bushfires: disaster season is upon us again. We cant prevent hazards or climate change-related extreme weather events but we can prepare for them not just as individuals but as a community. One way...
Rebuilding from the ashes of disaster: this is what Australia can learn from India
Jan 28, 2020 08:20 am UTC| Insights & Views Economy
A key question facing us all after Australias unprecedented bushfires is how will we do reconstruction differently? We need to ensure our rebuilding and recovery efforts make us safer, protect our environment and improve...