Gulf of Guinea: fighting criminal groups in the Niger Delta is key to defeating piracy
Feb 04, 2020 12:40 pm UTC| Insights & Views
Different reports have recently highlighted security challenges in the Gulf of Guinea. One was published by the International Maritime Bureau, another by the French Navys Mica centre and another by the US Maritime...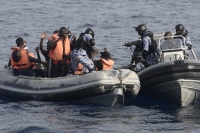 Fighting piracy in the Gulf of Guinea needs a radical rethink
Nov 19, 2019 03:03 am UTC| Insights & Views Life
The Bonita had been anchored off Benin for several days, waiting for a berth in the port of Cotonou. On November 2, 2019 the crew had a traumatic awakening. Armed men boarded the vessel and kidnapped nine crew members....