Ubisoft recently launched its NFT platform called Quartz, along with an announcement trailer. However, the dislikes it garnered are overwhelmingly higher than its likes count, suggesting that many video game fans are not thrilled about the new service.
The trailer in question runs for a minute and 19 seconds and provides an overview of how Ubisoft Quartz will work. It also highlights the first round of NFT drops from the publisher, which includes three in-game cosmetics to be given for free and will be playable on "Ghost Recon Breakpoint."
The video, however, was released after Google removed the YouTube dislikes counter from public viewing. But there are browser extensions that allow viewers to circumvent the contested YouTube update, revealing that the Ubisoft Quartz trailer has 37,000 dislikes and only 1,400 likes at the moment.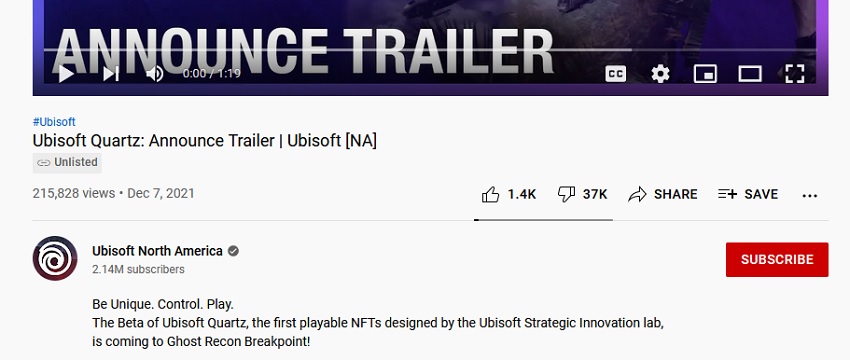 Ubisoft North America / YouTube screenshot
Ubisoft has since delisted the Ubisoft Quartz trailer from YouTube. But people who have access to the video's link can still view it. It is unclear, though, if the video's delisting was due to the overwhelmingly negative feedback.
Many of the top commenters on the video did not hold back on what they think about Ubisoft incorporating NFTs into the "Ghost Recon" game. One viewer wrote, "Ubisoft, once again, giving us something we didn't ask for, don't want and won't enjoy."
This is not the first time that video game fans voiced their disagreement with a Ubisoft announcement through the YouTube dislike button. Just last October, the publisher announced it is developing a first-person shooter battle royale game called "Ghost Recon Frontline."
Shortly after its announcement, there was an immense dislike-to-like ratio, along with scathing responses on YouTube comments and other online platforms. Just a couple of weeks after those events unfolded, Ubisoft announced it had postponed the Closed Test for the online multiplayer.
The launch of Quartz, where Ubisoft will release playable NFTs called Digits, made the company one of the biggest game publishers to jump into the NFT hype. Despite how people have reacted to the launch of Quartz, Ubisoft has heavily implied that it has more plans of merging its projects with blockchain. "This large-scale experiment is the next step in Ubisoft's four-year exploration of blockchain technology," the company said in a press release.