US December retail sales preview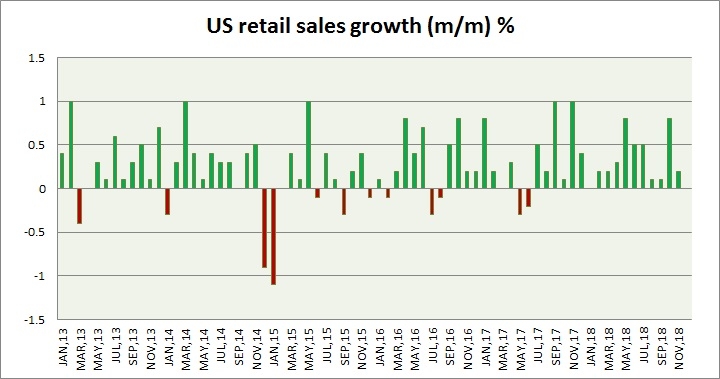 Thursday, February 14, 2019 9:32 AM UTC
U.S. retail sales statistics for the month of December will be released at 13:30 GMT, today.
Why retail sales and U.S. consumers are important?
Domestic consumption of goods contributes about 25% of GDP or around $ 4.7 trillion. Among these durable goods such as vehicles, furniture account for only $1.6 trillion. Buying of non-durables such as food, clothing account for $3.1 trillion.

Moreover, services, which is not covered by retail sales account for 45% of the GDP and mainly consumed at home.
Past trends –
Retail sales, as well as personal consumption expenditure, have been growing in the last few years. Fed has repeatedly said that personal income growth remains robust. However, expenditure has remained weak compared to income. However, in its past few monetary policy reports, FOMC reported an uptick in household spending. For inflation to remain upbeat continued expansion in domestic consumption is of utmost importance.
Except for growing 0.9% in March, 1.2% in May and 0.6% in July, retail sales have remained subdued throughout 2015. In four months in 2015 growth has been negative.
However, since 2016, for the past two years, overall growth has been quite encouraging. Look at the chart above for greater clarity.
Retail sales have further picked up in 2017 & in 2018.
Expectations today –
Today it is expected to grow by 0.2 percent and by 0.1 percent excluding autos.
Impact –
A strong retail sales report will be a boost to the ongoing strength of the dollar, along with support to American equities. The dollar index is currently trading at 97.20, flat for the day. S&P500 is currently trading at 2760 area.