Kylie Jenner has recently joined the calls of many Instagram users as they find the app turning into more of a video-oriented social media platform in an attempt to better compete with TikTok. But Instagram head Adam Mosseri responded practically, saying the pivot to video content and features will not stop.
Business Insider spotted Jenner, and her sister Kim Kardashian has shared a message on their Instagram Story updates on Monday that read, "Make Instagram Instagram again (stop trying to be TikTok. I just want to see cute photos of my friends). Sincerely, everyone." The message is in response to recent changes on the Instagram app, as the Meta-owned social media platform pivots from being a photo-sharing app to a video-oriented one.
When a user opens the latest version of the Instagram app today, they will find several new features designed to highlight Reels -- the platform's version of short-form videos -- on the feed or the pages of their favorite creators. Instagram also recently confirmed that all videos shorter than 15 minutes would be posted as Reels on its platform.
It is worth noting that Jenner and Kardashian both belong to the top 10 list of most followed individuals on Instagram. They currently have 361 million and 326 million followers, respectively. With that much influence on the platform, it was not surprising that their Instagram Story updates elicited a response from Mosseri. But the company's response might not sit well with Jenner and Kardashian.
Mosseri responded to the growing calls to bring back Instagram's former glory through a video, saying they will continue supporting photos on the platform as it is part of Instagram's heritage. "That said, I need to be honest. I do believe that more and more of Instagram is going to become video over time," Mosseri said.
The head of Instagram added that the app's shift to becoming a video-sharing platform would happen even if they do not change anything. Mosseri added that looking at "what people like and consume and share on Instagram," the shift to video content is inevitable. And as a social media platform, Mosseri said Instagram has to "lean into that shift" while promising not to forget about photo content.
Responses to Mosseri's video message have been mixed. While some creators applauded the company for communicating with users of the app, others have echoed Jenner's message.
Beauty content creator James Charles responded with a lengthy comment, claiming that consumption of video content on the platform is growing because creators "are being FORCED to post video." Charles claimed the engagement to photo posts went down by 90 percent, leaving them without many options but to post videos instead.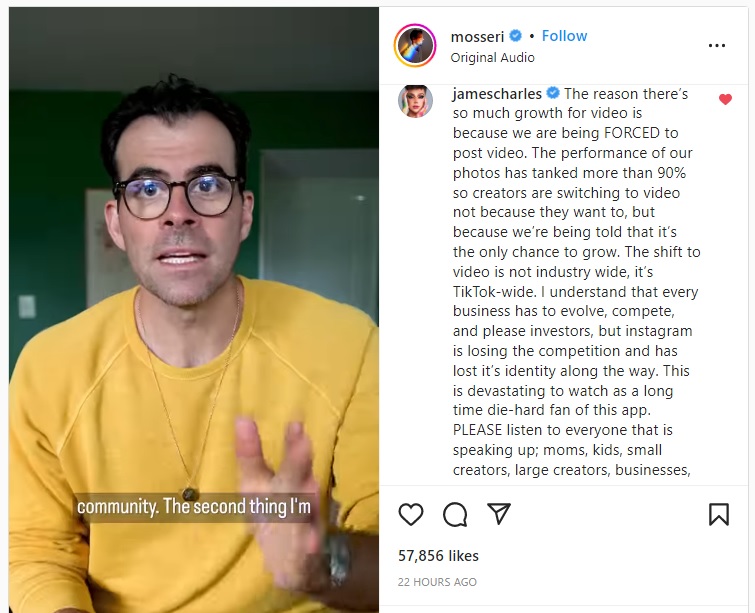 "PLEASE listen to everyone that is speaking up; moms, kids, small creators, large creators, businesses, and now A-list celebrities too," Charles, who currently has 22.8 million followers on Instagram, told Mosseri. "We're upset because we CARE about this app and the communities we've been able to create/join on here."
Photo by Claudio Schwarz on Unsplash