FxWirePro: Retail sentiment points to gradual downside in pound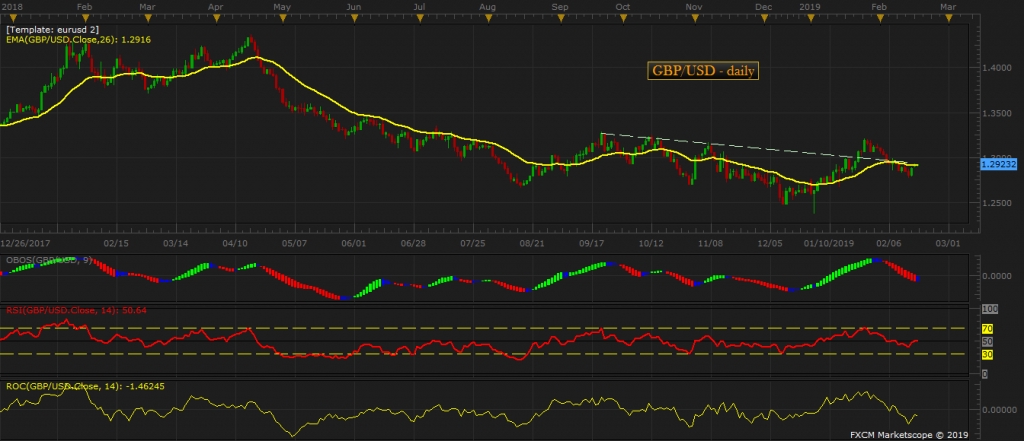 Tuesday, February 19, 2019 9:05 AM UTC
The British sterling is likely to face further slide,
At least retail sentiment is pointing in that direction.
The pound has already declined around 300 pips since it tested key resistance around 1.32 area. Sterling is currently trading at 1.293 against the USD and further pain could be in store for the pound.
Weaker than expected economic numbers where GDP contracted in the final month of 2018, along with Brexit uncertainty causing havoc for the pound.
The ongoing political gridlock within the Conservative coalition makes it increasingly likely that either the deadline would receive an extension or Britain would actually move out without any deal.
Retail sentiment:
The sentiment reports from IG Markets, which is a UK-based company providing trading in financial derivatives such as contracts for difference and financial spread betting, strongly suggest that the pound is set to decline further. However, any decline could very well be gradual as retail traders have gradually reduced long positions.
IG markets' retail positions data provide a glimpse to retail traders' positions, which are largely used a contrarian indicator since retail positioning moves in opposite direction to market movements.
As of today, the retail positions remain skewed to the upside. 60 percent of retail positions are on the long side, while only 40 percent are short on the pound, suggesting further slide.