FxWirePro: Nikkei declines more than 1% on US-China trade war, good to sell on rallies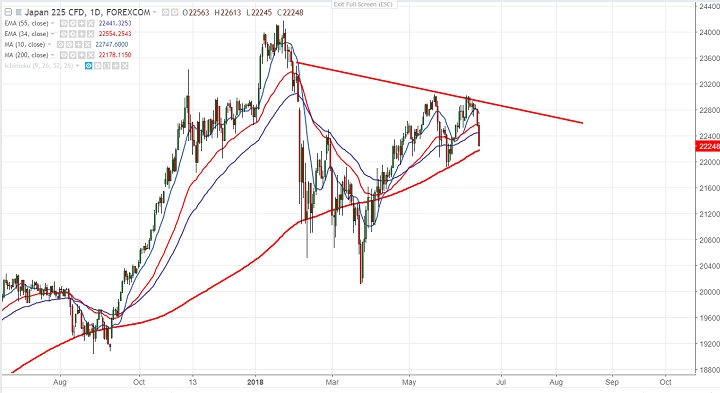 Tuesday, June 19, 2018 6:11 AM UTC
Asian markets were trading lower and hits 4 month low as trade war escalates between U.S and China which will be affecting entire global demand. US President Trump warned that US would impose a 10% tariff on $200 billion of Chinese goods after Beijing's decision to raise tarriffs on $50 billion in US goods. Nikkei declined more than 500 points from the high 23024. US markets have closed slightly weak with Dow Jones 24987 (0.41% lower) and S&P500 2773 (0.21% lower). US futures is trading weak with Dow Jones at 24712 (1.01% lower) and S&P500 2746 (0.95% lower). Nikkei is currently trading around 22290 1.21% lower.

USD/JPY has shown a minor decline of more than 50 pips on account geo plotical tensions . The pair hits high of 110.90 and is currently trading around 109.60.

On the lower side, index major support is around 22200 any break below will drag the index down till 22166 (200- day MA)/22000 (100- day MA).

The near term resistance is around 22590 (20- day MA) and any convincing break above will take the index to next level till 23290/23500.

It is good to sell on rallies around 2350-400 with SL at 22600 for the TP of 22000/21900.