Fundamental Evaluation Series: EUR/USD vs. 2-year yield spread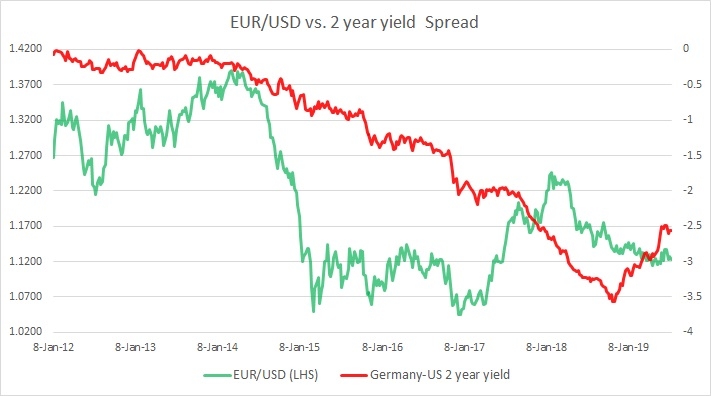 Thursday, July 18, 2019 10:30 AM UTC
The chart above shows, how the relationship between EUR/USD and 2-year yield spread (U.S. - Eurozone) has unfolded since 2012. It is evident that these short rates have been a key influencing factor for the pair as policy divergence became evident since 2013.
The chart clearly shows the close relationship between the yield spread and the exchange rate. Since December 2013, the yield spread declined from -0.2 percent area to -3.56 percent area by November 2018, and EUR/USD declined from 1.38 to 1.13 area.
However, in our December review, we noted that since the second week of November, the yield spread has reversed course, and rose from -3.56 percent to -3.26 percent, which suggested that there might be a reversal in the exchange rate going ahead, should the spread continue its reversal.
As expected the exchange rate reversed course and euro rose against the USD.
In March, the spread has further narrowed to -2.98 percent in March, and the euro remains well-bid at 1.136 against the USD.
In April, the spread remains broadly unchanged at -298 bps and the EUR/USD is continuing trading waters around 1.13 area.
In May, the spread further narrowed to -290 bps but EUR/USD has further weakened to 1.12 area.
In June, the spread further narrowed to -252 bps and the EUR/USD finally responding to the narrowing spread and moved higher to 1.132 area.
In July, the spread is at -256 bps and the Euro is currently trading at 1.123 against the USD.
By Saanando Das