CD Projekt Red revealed that at least one million players have opened "Cyberpunk 2077" in the past week. Online charts show that the daily numbers of concurrent players are also climbing up, especially after the release of the latest update.
The developer thanked fans on Twitter on Wednesday, where it said the daily one million "Cyberpunk 2077" visitors are composed of new and returning players. This may be the clearest indication so far that CD Projekt Red is on its way to regaining fans' trust after the problematic launch of the game in December 2020.
The emphasis on new and returning players visiting "Cyberpunk 2077" recently may be implying that new players have purchased the game. Those who have already purchased the game could be giving it another shot after it received plenty of bug fixes, game improvements, and new content.
CD Projekt Red's celebratory post also came a few days after Benji Sales noted that on Sept. 18, "Cyberpunk 2077" saw 85,555 concurrent players — the highest count since January 2021.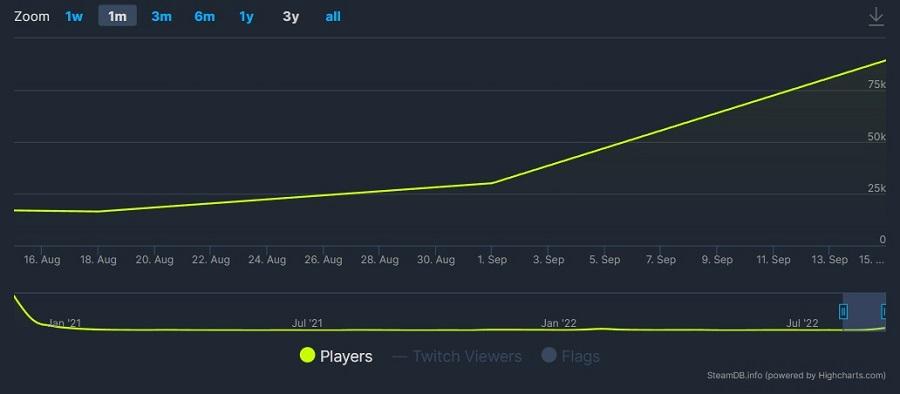 Screenshot from SteamDB
Charts on SteamDB show a solid increase in the "Cyberpunk 2077" concurrent players for the past month, but the improvement is more noteworthy in the past week. The game even surpassed 89,000 concurrent players on Thursday. The latest data posted on Steam Charts, as of this writing, indicates "Cyberpunk 2077" saw a 132.70% increase in traffic in the last 30 days.
"Thank you so much chooms for this overwhelming support," 'Cyberpunk 2077' quest director Pawel Sasko said on Twitter. "Feeling very motivated, thankful and focused."
The consistent increase in concurrent players has been observed a few weeks after CD Projekt Red rolled out "Cyberpunk 2077" patch 1.6, a.k.a. The Edgerunners Update, earlier this month. Aside from gameplay improvements and other fixes, the update also delivered a host of new content inspired by the recently released Netflix adaptation series "Cyberpunk Edgerunners."
The developer, however, also announced that the Edgerunners Update will be the last content-focused patch that will be released on the PS4 and Xbox One versions of "Cyberpunk 2077." CD Projekt Red said it will now focus on developing future updates, including the sole expansion "Phantom Liberty," for PC, PS5, and Xbox Series X/S.