The Blockchain & Bitcoin Conference India brought together startups, crypto enthusiasts, legal representatives, and others under one roof.

The conference was held at Hotel Radisson Blu on February 22, 2018. It featured discussions on a number of topics with a particular focus on the recent developments in the Indian regulatory landscape in the sphere of cryptocurrencies, pitches from a number of companies, and offered an opportunity to the participants and attendees to build their professional networks.

Arnab Naskar, CEO SICOS, started off with a brief introduction to Initial Coin Offerings (ICOs) followed by a detailed insight into the ICO regulation in the European Union and Switzerland. He also highlighted some of the existing self-regulatory initiatives including Crypto Valley, LHoFT, ICOCHARTER.EU, among others.

Nappinai N S, an advocate at Supreme Court of India & Bombay High Court, spoke at length about the Indian government's position on cryptocurrencies, its legal implications and possible outcome, particularly in the wake of a recently proposed bill which seeks to ban all unregulated deposits. She explained how the bill could be perceived to include cryptocurrencies and ICOs. She also shed some light on the tax aspect of cryptocurrencies.

Harmeet Singh Monga, Chief Business Officer at Blocksmiths, explained in simple terms the working of blockchain technology. With reference to logistics and supply chain, he discussed the potential of blockchain technology to disrupt traditional processes.

Mani Madhukar, Architect & Developer Advocate at IBM India, underscored the need for companies and startups to understand whether the blockchain solution they are considering is in fact a good blockchain use case or not. He also discussed a number of blockchain projects that IBM is currently working on, including food traceability in China in collaboration with Walmart and others and a new venture in partnership with container shipping giant Maersk. Madhukar also hinted on an upcoming blockchain food traceability project in India.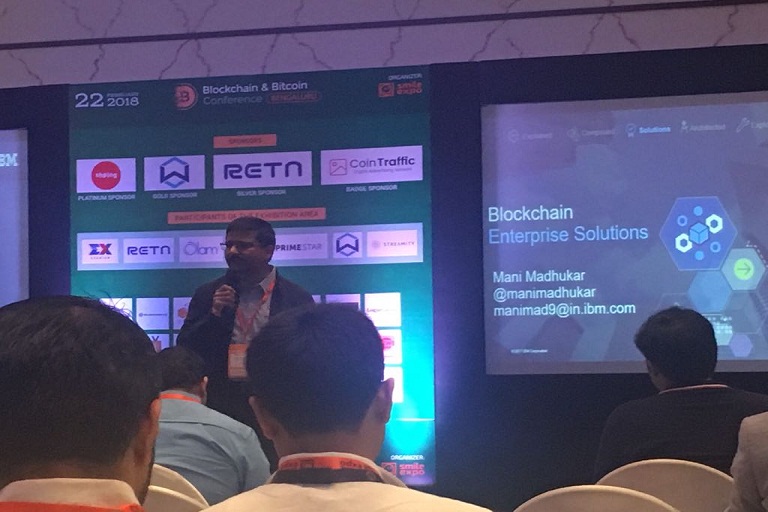 This was followed by a panel discussion on how ICOs are critical to blockchain innovation and technological challenges from legal perspective. The panel was moderated by Ravikant Agrawal, Manager Consulting at Cognizant Tech Sol, and included Anirudh Rastogi, Founder & Managing Partner at TRA; Harmeet Singh Monga, Chief Business Officer at Blocksmiths; and Reenu Saluja, Sr. Software Engineer, Microsoft India.

In the afternoon session, Anirudha Rastogi reflected on the recent move by a number of banks to stop the use of their credit and debit cards to facilitate cryptocurrency transactions, the classification of cryptocurrencies from regulatory standpoint and why it is important for regulators, as well as how the recent statement from Indian Finance Minister Arun Jaitley that the government will curb the use of cryptocurrencies in the payment systems is detrimental to innovation.

Reenu Saluja spoke on how to improve the security of blockchain applications. Referring to a number of hacks in the cryptocurrency industry, she explained that the hacks happen on the application layer not the blockchain itself.

The event included a number of pitching sessions from companies including (arranged alphabetically):