Nebulas is a decentralized platform which provides search framework for all blockchain project. It is Google for the blockchain. The three major core features of Nebulas are:
Value ranking (Nebulas rank) - It provides a measure of value for every unit in the blockchain.
Self-evolving (Nebulas Force) - It enables Nebulas to respond to new demands without fork.
Native Incentive (NI)- It rewards devoted Nebulas developers and virtual users.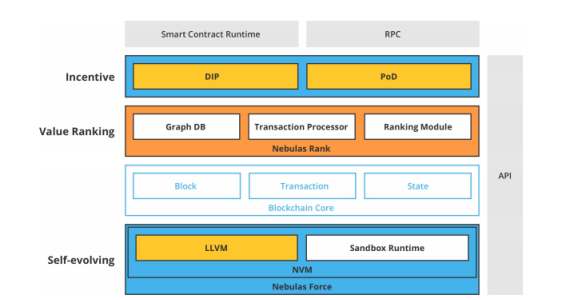 Nebulas Rank :
Nebulas Rank is core ranking algorithm which has been open sourced. It is used to rank addresses, smart contracts, decentralized app (dapps) and other entities of blockchain. The algorithm is based on liquidity, propagation of user assets and interactivity between users.
Nebulas Rank can be further divided into Core Nebulas Rank and Extended Nebulas Rank.
Core Nebulas Rank defines the algorithm to calculate an account contribution to the whole blockchain system over a certain period of time. It involves two-factor one the median stake of an account over a certain period and in and out degree of the account over a certain period.
Extended Nebulas Rank:
Extended Nebulas Rank is based on the Core Nebulas Rank, to guarantee continuous incentive to the Nebulas economy even under different use cases.
They rank Dapps based on three dimensions. They are
Liquidity
Interoperability
Propagation of the address
Liquidity: The frequency and scale of transaction is the first dimension that Nebulas Rank measures. More transactions and large transaction scale produce better liquidity and better liquidity increases transaction scale.
Propagation: The scope and depth of asset liquidity is the second dimension that Nebulas Rank measures. The propagation property especially, scope and depth of information transmission is a key index indicating network quality and user growth. Powerful viral propagation indicates scope and depth of asset quality.
Interoperability :

It is the third dimension that Nebulas Rank will measure. The better interoperability will be vital for interacting with higher dimension information.

Consensus mechanism: Proof of Devotion
Proof of Devotion as consensus algorithm based on the Nebulas Rank system. The influence users within Nebulas blockchain can become bookkeepers. The bookkeeper will able to generate blocks and receive block rewards and transaction fees.

Users with NR values higher than a specific threshold may take part in bookkeeper selection procedure by paying a security deposit.
Developers Incentive Protocol (DIP):
Another key concept in Nebulas blockchain is Developer incentive protocol for developers of smart contracts and Dapp. Developers whose smart contract or Dapps having Nebulas Rank higher than preset thresh hold limit will be rewarded by Developer Incentive Protocol (DIP).
Nebulas Force (NF):
The final core technology behind Nebulas is Nebulas Force (NF). The Nebulas Force include three aspects
Nebulas Virtual Machine (NVM)
Upgrade of the Protocol code
Upgrade of smart contract running
By using Nebulas Force developers can incorporate new technology, fix bugs, or we can make normal changes without need of hard fork. The developers of smart contract and blockchain to upgrade their system with help of Nebulas Force
Nebulas Developers Incentive program
Nebulas has launched $5 million developer incentive program to encourage people who share its values to improve the ecosystem. It has two types of incentive 1.developer 2. referral incentive. It offers rewards in NAS between 80 NAS and 200 NAS. The Nebulas platform has over 6800 Dapps performing around 2000 transaction per second.
The Developers Incentive Protocol offers 20000 NAS and also 10000, 2500 and 1000 reward for the best monthly performer, persons who have the highest referral.
Nebulas recent news and Update:
Nebulas has completed the realization of Nebulas Rank and made it open sourced. The implementation includes the algorithm described in Nebulas Yellow Paper.
Nebulas team published Announcing Nebulas Technical Committee (NTC) and disclosed the research progress of Nebulas V2.0 (Nebulas Nova).
BitGo Trust Company recently announced that the South Dakota division of Banking has approved BitGo which could provide crypto assets custody service. It lists Nebulas as one of its available digital assets.
Nebulas has announced a bug bounty system for inter- contract call function on their Testnet. It will allow users on the blockchain to call a smart contract from within another smart contract. There will one month public beta for the feature beginning from Aug 22nd 2018. High-risk bugs will be awarded 15 NAS, middle-risk bugs between 5 to 15 NAS and low-risk bugs 1 to 5 NAS.
Technical:
NEBLUSD has formed a temporary bottom around $1.24 and shown a good recovery of more than 100%. It hits high of $2.84 and is currently trading around $1.718.
On the higher side, near-term resistance is around $2.06 and any violation above will take the pair to next level till $2.45 (55- day EMA)/$2.85. Any convincing break above $2.85 would confirm bullish continuation.

The near-term support is around $1.50 and any violation below will drag the pair till $1.24/$1.
It is good to buy on dips around $1.50 with SL around $1.24 for the TP of $2.45/$2.85.