FxWirePro: XRP/USD breaks minor resistance at 0.8010, jump till 1.0250 likely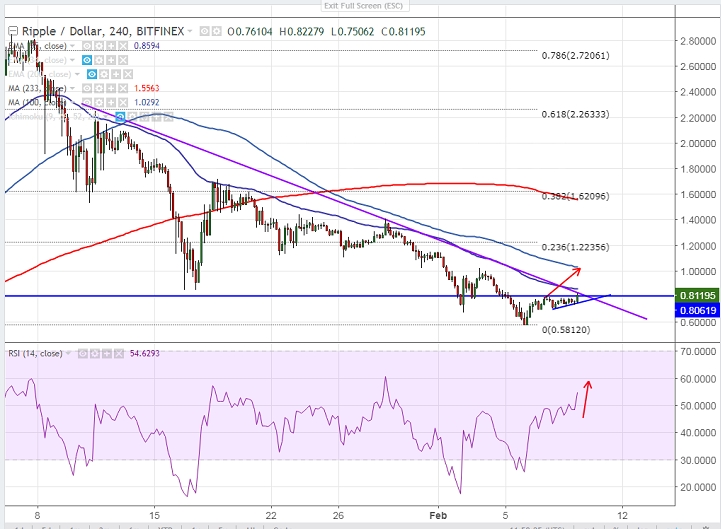 Friday, February 9, 2018 1:16 PM UTC
Major resistance – 1.0270 (Feb 3rd 2018 high).

Ripple has shown a minor bullishness and broken resistance at 0.80606. The pair jumped till 0.82279 at the time of writing and is currently trading around 0.81037.

The pair took support near 233- day MA at 0.49. Ripple hits low of 0.5700 and is showing a minor bullishness from that level. Any major weakness only below 0.4900 level. The pair's major resistance is around 0.8611 (55- 4H EMA) and any violation above will take the pair till 0.9800 (trend line joining 1.74 and 1.3890)/1.0270/1.0870 (100- 4H MA). Short term bullishness can be seen above 1.72-1.75. Short term bullishness only above 2.25.

The support is at 0.490 major last one for bulls. Any violation below will drag the pair till 0.25/0.15 level.
It is good to buy on dips around 0.8000 with SL around 0.700 for the TP of 1/1.0270.