XRPUSD: Buy opportunity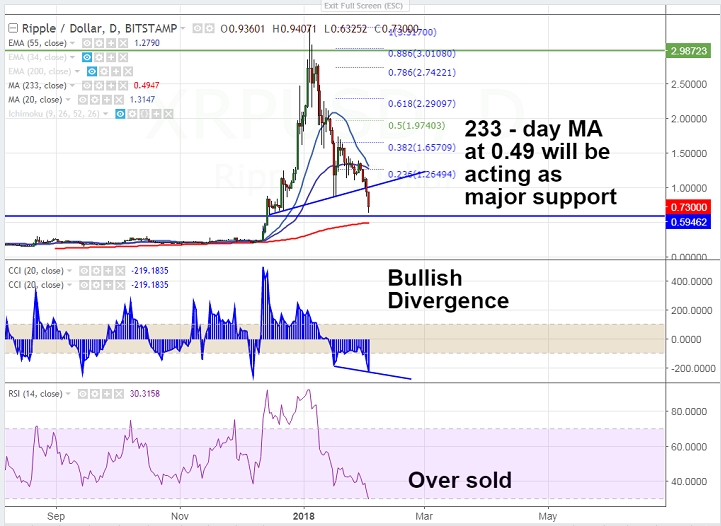 Friday, February 2, 2018 1:20 PM UTC
Major support 0.4900 (233- day MA).

Ripple declined sharply almost $2.70 from the high of $3.31 made on Jan 4th 2018. The pair dipped till 0.6659 at the time of writing. It is currently trading around 0.7750.

Last hopes for bull's to come back into action is 0.4900 level. Any violation below confirms death of ripple and it can be buried. The pair's near term resistance is around 0.8700 (100 –day MA) and any violation above confirms very minor chance for bulls to make profit. Above that level jump till 1/1.220 (10- day MA)/1.3770 (20- day MA). Minor bullishness cam be seen above 1.40-1.45 level. Short term bullishness can be seen above 1.72-1.75. Short term bullishness only above 2.25.

The support is at 0.490 major last one for bulls. Any violation below will drag the pair till 0.25/0.15 level.

In the daily chart CCI (20) is showing good bullish divergence and RSI also in over sold territory. So a jump till 1.2690/1.600 level likely.
It is good to buy on dips around 0.650-0.690 with SL around 0.49 for the TP of 1/1.26/1.41.