US consumer spending slows into 4Q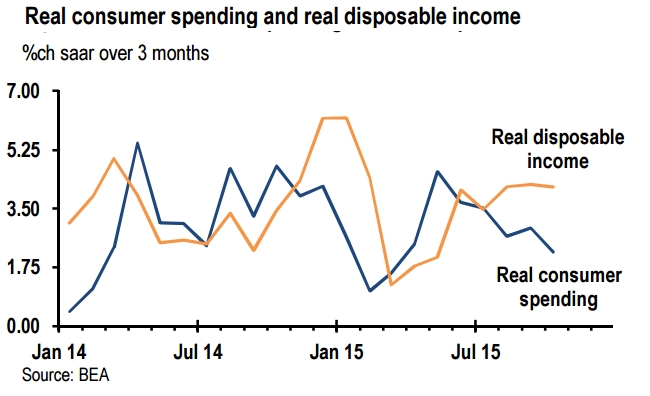 Monday, November 30, 2015 10:31 PM UTC
US real consumer spending growth has reached 3.0% or higher in five of the last six quarters but slowed to a 2.1% saar pace over the past three months with increases of only 0.1% samr in both September and October. Part of the October weakness was related to unusually warm weather and a related 8.3% plunge in spending on electricity and natural gas.

Real spending ex. utilities was up 0.2%. But it is far from clear that the savings from lower utility bills will be spent on other goods and services in the rest of the quarter. The slowdown in real consumer spending has come against the background of stronger growth of personal income and real disposable income. Consequently, the personal saving rate has increased to 5.6% in October from an upward-revised 5.2% in 3Q15 and 4.7% in 3Q14.

Aside from the plunge in spending for home heating in October, the slowdown in spending has been most pronounced in outlays for nondurable goods rather than other more discretionary spending. Real spending for groceries and for gasoline each declined in both September and October. Other October reports on activity send mixed messages for growth this quarter.