(Photo by Polodiuk Oleksandr)
Iaroslav Gadzalo has been the president of National Academy of Agrarian Sciences of Ukraine for eight years already. Prior to that, he had been Deputy Minister of Agrarian Policy of Ukraine for three years.
It all started with Vyshnia State Farm (Sovkhoz) College where Hadzalo's passion for agricultural science has grown into something more. Then there was graduate school, PhD and doctoral dissertations, as well as teaching.
What has the person with almost 50 years of experience in agricultural science told us?
What are the development prospects of Ukrainian crop production and animal husbandry?
And what does Ukraine need to do in order to stay 'the biggest agricultural country of Europe'?
Ukraine is now one of the leading producers of agricultural products and food globally. It includes grain, beetroots, potatoes… What has to be done in order to increase this production and for land to give, relatively speaking, even more of what it gives us now?
We have endless possibilities. We can produce enough to feed more than half a billion people. If you compare our production of one hectare with the production that exists in Belgium, our resource potential is used approximately by 65%. That is, we still have huge opportunities. But you have to listen to science.
For example, even in Soviet times, it was scientifically proved that no more than 3 million hectares of sunflower could be sown in Ukraine. Today, in some areas, there is 'a sunflower on a sunflower', which degrades soils, contaminates it with the same type of chemicals that are introduced under the guise of weeds, diseases and pests control. This makes the soil less suitable because the crop rotation system is not used (scientifically substantiated alternation of crops in time and territory according to a predetermined plan – ed.), while in Europe this system is being applied almost everywhere. As for us, it must be addressed at the legislative level.
They tried to adopt the law on crop rotation in 2010, but did not succeed. This law was under consideration every year after that, but it has not been enacted to this day. There are huge problems in animal husbandry: the number of cattle and dairy herds is reduced to a critical minimum. The Law 'Major Fundamentals of the State Agrarian Policy for the period until 2015' actually ceased to operate.
The opportunities are enormous. But a number of circumstances must be taken into account, such as climate change, which has had a very severe impact on Ukraine's territory. Last year, in the Odessa Oblast alone, 250,000 hectares did not yield due to drought, and this year there was a lot of rainfall already.
There are problems that need to be solved starting from the south of Ukraine. Irrigation needs to be revived. Such a program was developed by our scientists. It has been approved by the Cabinet of Ministers of Ukraine, adopted, is currently being discussed and decisions are being made. I believe this is a huge breakthrough.
We know that since the country's independence, people in the south of Ukraine have had difficulty paying for gas, many trees and a huge number of planted forests have been cut down. Because of this, forestation needs to be restored. It is obligatory. This region cannot be allowed to become a desert.
The President of Ukraine, Mr. Zelensky, has been absolutely right declaring that a billion trees should be planted, which is a unique solution to change the microclimate. Totally different conditions will be created in those regions where drought is approaching.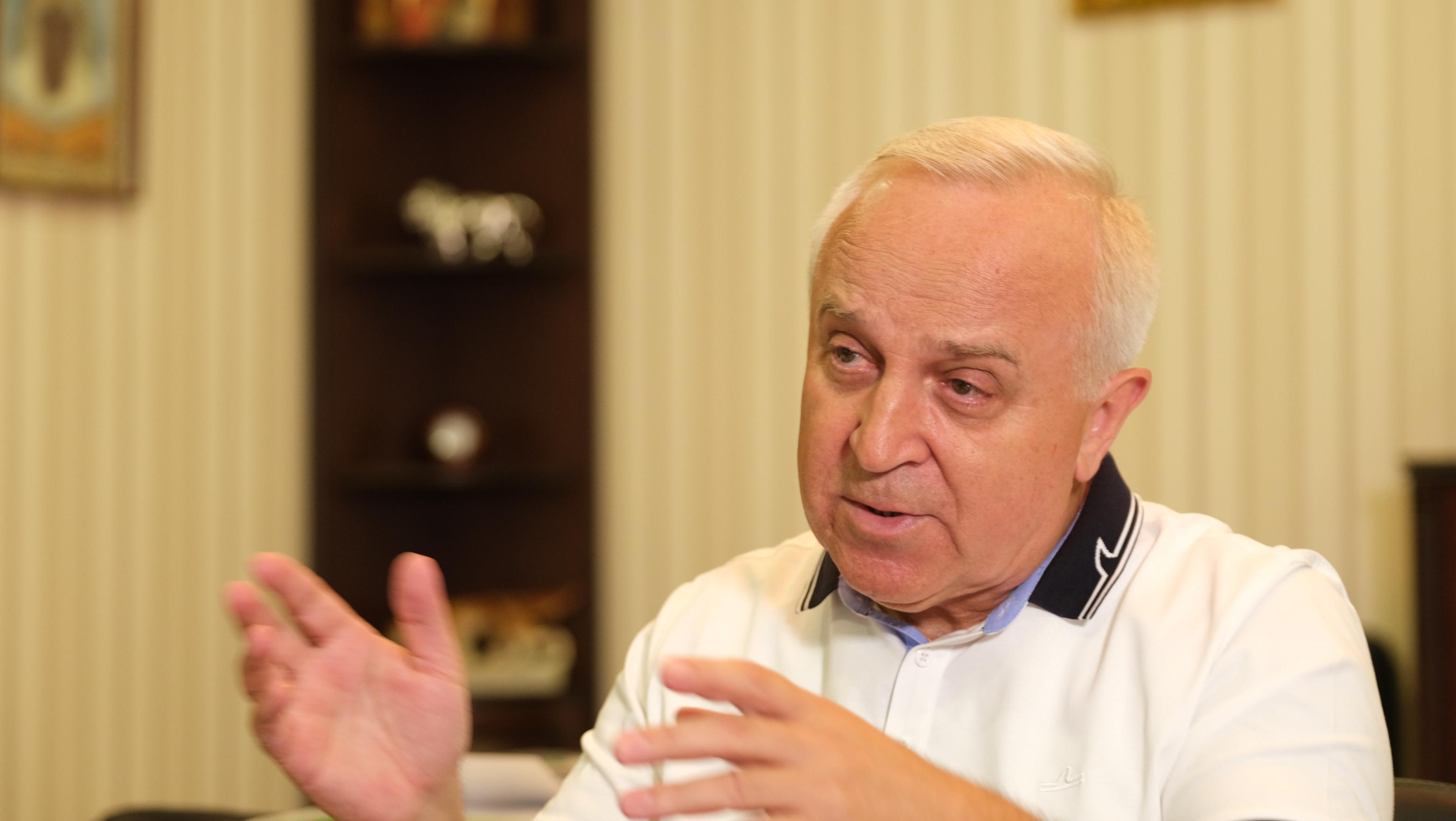 (Photo by Polodiuk Oleksandr)
It is declared to plant trees, but the Carpathians are being cut down and sent to become chairs in IKEA. How should this be dealt with?
Deforestation in the Carpathians creates a problem not only for Ukraine, but also for Poland, the Czech Republic, Slovakia, Austria and other countries. Therefore, of course, it is also necessary to develop a State program for forest conservation. Because, as foresters say, "…that we plant more trees than we cut down…" I don't know how they convert it into cubic meters, centimeters, but in reality we see a completely different picture. So, this problem must be solved. But this is the 'area of responsibility' of environmentalists, foresters, not agrarians.
Agrarians and farmers must do their part and protect the land: engage in agriculture while preserving the soil (degradation, soil losses, pollution, and salinization). There are many issues with the use of pesticides and chemicals. In recent years, many plant protection products that are banned for use in the European Union have been imported. And here, for some reason, they are bought and used. Also, various uncertified poisons of Chinese production are also imported. They are cheap and low quality. This is a problem. Everything needs to be settled.
Catastrophic reduction of livestock leads to a decrease in the percentage of humus, increase of soil losses, acidification of soils due to reduced application of organics (organic fertilizers – ed.), compared to the 90s, when it was tons per hectare while now it is in kilograms.
Is this happening because of fertilizers?
Because of fertilizers, because of crop rotation absence, because of green manure and post-harvest crops not being sown. Those crops are then plowed and enrich the soil with humus. Relevant processes take place, such as deoxidation, rapid decomposition of pesticide residues.
What needs to be done in order to prevent this from happening?
I think we still need to work more closely with science. There are many suggestions. The Academy has developed a program and sent it to the Minister of Agrarian Policy and Food of Ukraine, Mr. Leshchenko.
We have a fruitful work with farmers, we provide them with advice and recommendations and seeds of our own selection to obtain high yields.
Farming needs to be developed. They passed a law on farming, but did not give them the necessary support. First of all, this applies to soft loans for the purchase of agricultural machinery.
It is necessary to introduce cooperation in the countryside. When there is no cooperation, farmers do not have support, then they grow crops that are just easier to grow. And what should he grow when he knows that there is a grain elevator; that's why he grew wheat, corn, sunflower, and rapeseed – and he handed it all over. These 4 crops are business crops. Meanwhile, we import a large number of vegetable crops from abroad. For example, we import onions, garlic, which we can grow ourselves so much that we won't find anywhere to put it. And if cooperatives were created, the variety of choices would be wider.
Is this happening because of non-established cooperatives?
Absolutely! Because there are a number of points. Everything is connected. This chain needs to be understood. It all starts with the manufacturer. If he is engaged in production, he has no time to run around the market and sell, organize something.
Everyone used to have cooperatives. We had cooperation in almost all areas and directions. There were dairy factories that were built by the village, or even a union of several villages in the region. Those dairy factories processed products that were of excellent quality.
There was also a so-called 'zahotzerno' system. These were small grain elevators, where grain was also sold. And there was another system – 'zahotcontora'. It was also a cooperative that accepted all vegetable crops – from radishes to potatoes. They provided the population: kindergartens, hospitals, the military and almost everyone everywhere. There was no problem. That's how Poles, Germans, French work, and everything is fine with them.
And what about animal husbandry? It is believed that cattle pollute the environment very much.
We are talking about CO2 emissions. Let's go back to where we have started – we are starting a green program, planting trees, and a large number of afforestation of marginal, poor and contaminated lands. We are putting these areas in order and these trees will absorb CO2.
In 1990, there were more than 10 million cows and about 24 million pigs in Ukraine. We don't even count hens, geese, and goats anymore. What do we have today? We have 1.6 million cows – which is 10 times less. At least 3 million cows are needed to meet the needs of the population of Ukraine.
There are 1.6 million cows, only 435 thousand of them are in farms, the remaining 1.2 million are in the private sector. Now the private sector has begun to drastically decrease livestock. That is, we need to think about how to increase it. It can be done only via farmers.
Nowadays, there are 6 million pigs in Ukraine (there were 24 million, and there are 6 million left). And the annual slaughter is about 40 million animals. Can you imagine? And they provide 40 countries with pork.
Now there is a trend for vegetable meat and vegetable milk. Maybe this also helps to reduce this number?
I think it is not needed in the first place. This is interesting for science. We can do it if there is any trouble, so that we can feed ourselves. But, will it be right that we will eat that? I don't think it will. We can produce excellent natural products that are environmentally friendly and high quality.
That is, can we say that the quality of Ukrainian products is higher than the quality, relatively speaking, of foreign products?
This is the opinion of foreigners when they come to visit us. They say: that is delicious here, and that is also delicious.
Ukraine exports a lot. Can Ukraine be considered a partner for European countries to which it exports products? In the Russian Federation, for example, there is a narrative that Ukraine is a raw-material appendage of the European Union. What do you think?
I think they are wrong. The fact is that when we have already been exporters of grain, Russians were considered importers of grain in the world. Russia received exporter status only in 2010 or 2011.
And we were already exporting grain at that time. So, it wasn't much for those days – at the level of 10 million tons. We currently export at the level of 50 million tons.
But you are right; we need to think about exporting more processed products: flour, other grain products. Then we will destroy roads less, and load grain elevators less, too. We will send ready-made products instead. We can produce excellent mixed feeds.
It seems to me that it is necessary to limit the sale of grain as a raw material, and sell products with high added value.
Then our enterprises will work, and it will be possible to give people both a job and a salary. And it is the same in almost all directions. We can work like this with grain and oil. The Verkhovna Rada has already imposed an import tax on sunflower – oil is processed more in our country. But we still send it by large barges, thousands or hundreds of thousands of tons - as raw material. And then, on the other hand, there are companies that process and bottle it.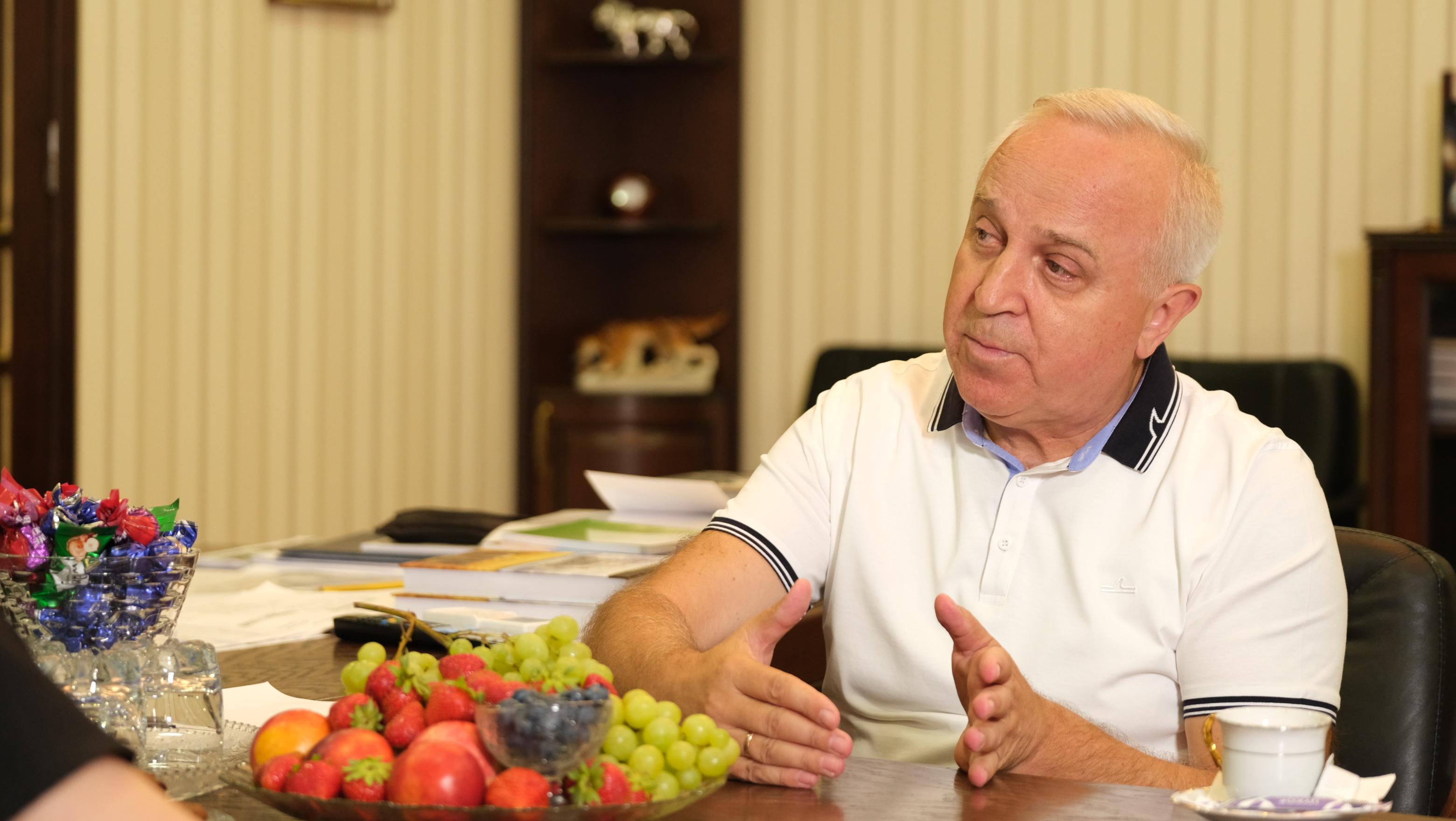 (Photo by Polodiuk Oleksandr)
And what should the state do now to have value-added products and not just raw materials?
We need to increase processing capacity. And we need to support the animal husbandry industry, processing livestock products more, so as not to import it.
Just to perform an analysis of what is most imported. Just go to the store – there are thousands of products that we do not produce but which are imported from abroad and sold here.
As an example we can mention bread products, different kinds of bread sticks, chips – we can make it all ourselves. No problems at all. But we import it. And we export wheat and other grains. There are opportunities here… but this is business, we need to think about it.
If you were to decide to start a small business in the agricultural sector, which direction would you choose?
Business in the agricultural sector is promising for those who have the opportunity and desire to work, but with a degree in this field. Then it is necessary to contemplate – to take a loan from the state or abroad, buy or rent land, and then, depending on the area of business, I think that vegetables, onions, and tomatoes have a great prospect in the south. There, they give an excellent harvest, on watering – up to a thousand tons of tomatoes per hectare. That is why it is a perfect business.
You mentioned renting or buying land. On July 1, the land market in Ukraine just opened. What can you say about this? Is it good for agrarians and farmers or is it bad?
I suppose it will still show its advantages. It is very right of them to launch this process now. They have complied with the article of the Constitution, which states that a person has the right to dispose, as the owner, of his land share as he wishes. And as it can be seen, not everyone ran straight away to sell the land. This process is very, very slow. And that's great.
Someone can cultivate the land himself; someone has it done by a neighbor or a relative; someone temporarily leases it. And someone doesn't need it – everyone has already left the village, the children live in the regional center or the capital, and the land is left behind; someone rents it, maybe it is unfairly paid for, and a person thinks to sell the land. The main thing is that a Ukrainian sells to a Ukrainian. This is normal. You do not cultivate it yourself – another person will do it. The effect will be normal. We will see it.
And do you think that not having the possibility to sell land to foreigners is the right step?
I think that's right. For Ukrainians, the land is something sacred. And we must understand that land is also territory.
When we can work there ourselves, what's the point of selling? For what? I don't understand this.
I think this is absolutely right, and it should not be done. We have a sufficient number of smart people, Ukrainians. We are the largest agrarian state in Europe, are we really going to look for someone to teach us how to cultivate the land? The yield of most crops here is the same or even higher than in European countries.
Now there is such a trend of urbanization in Ukraine. People either leave the villages for the regional centers or leave the regional centers for the capital. Does it affect farming in any way, and does the number of people who want to do it decrease?
There are many willing. People want to work – there are no questions here. It is simply necessary for a person to understand the conditions: whether he will be given a benefit, whether he will be helped with machinery, whether he will be allowed to buy the land he has rented.
Animal husbandry must now be supported in order to revive the industry. If livestock is revived, then crop production and agriculture will work more efficiently. Because we need to feed the animals and sell the products.
But in order for this to happen, it is necessary to provide benefits so that this farmer can build a plant for processing livestock products and be able to sell it.
And what are the problems in the field of agricultural science? Maybe young people do not want to do science, or maybe there is a lack of funding?
Problems are everywhere and without them it wouldn't be interesting to live. Our number of young people has decreased. Now it's 23%, in 2017 it was 31%, in 2019 we were underfunded. Then it had become worse – in the middle of the year the budget was revised and 8 million UAH was taken from us. This is almost half a year of funding. And we were thriving for the rest of the year. That was when 300 young scientists left us. But we try to support and help young people. But the main problem is the low salary of scientists.
The other one is the lack of housing construction by the Academy for young scientists. The state does not provide them with housing.
Other than that…The scientist gets his doctorate, his PhD – and he's in a foreign company right away. They run away from us because we do not have the opportunity to meet the needs so that children can work properly.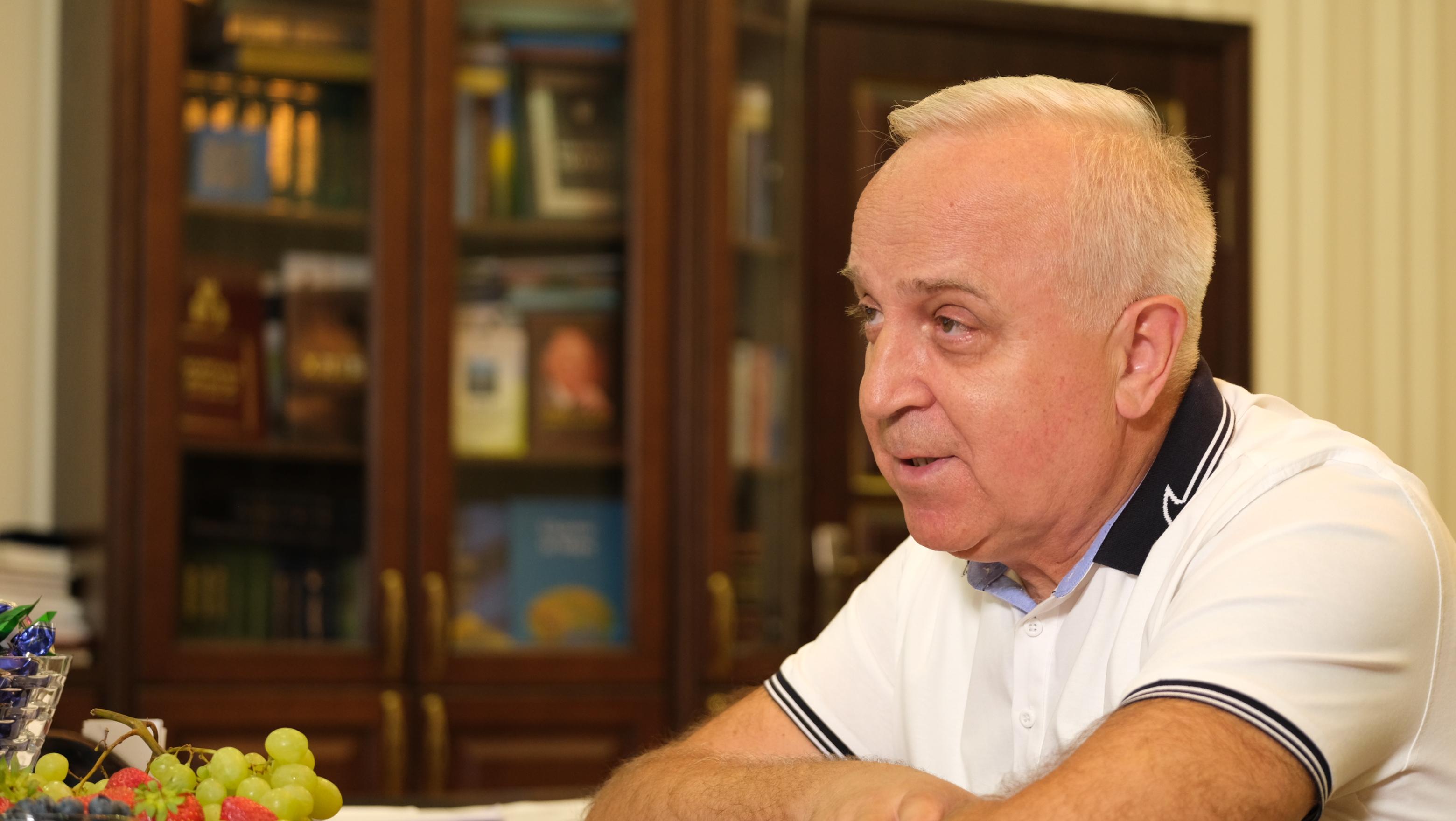 (Photo by Polodiuk Oleksandr)
What can Ukrainian agricultural science give to the world in general?
We are working with many countries. We have cooperation agreements with 62 countries of the world, and we work effectively with 40 countries.
We share experience and work closely with European countries. A lot of seeds are bought from us. Turkey sows 10 percent of wheat and barley of Ukrainian selection. Our varieties and hybrids of corn are grown in Kazakhstan.
We have very close cooperation with Chinese academies. We have areas that are now promising – cannabinoid-free cannabis, first bred in Ukraine originally.
There are very fruitful relations in crop production. In Spitsbergen, there is the Svalbard Global Seed Vault. There are about 40 samples of crops from our bank. Ukraine has its own National Gene Bank of Plants of Ukraine, which has 159,000 specimens of various plant species, not only crop plants but also their crop wild relatives. Our Bank is evaluated at $10 billion.
We also have the Gene Bank of Animals.
I know that in many countries, including Europe, you cannot bake good bread without Ukrainian flour. And our country has the best wheat for bread.
This article does not necessarily reflect the opinions of the editors or the management of EconoTimes