Natalia Borotkanych, a space explorer, met with Max Polyakov, Managing Partner of Noosphere Ventures and owner of Firefly Aerospace to update her forecast of financial trends in the space-based industry based on an analysis of the space investment market.
Key points:
The main investor in space programs is middle class;

Space companies received $3.6 billion in investments in 2019;

The space industry will reach a trillion dollars by 2040.
More than sixty years have passed since man began to explore the cosmos. During this time, research was mainly focused on manned missions in low Earth orbits and unmanned scientific research. The state acted as the main investor. Recently, however, small enterprises have begun to "look up at the stars." Private funds have invested in space companies and in 2019 a new record was set for attracting investments in space projects.
Who, how much and why is investing in space exploration?
Space billionaires vs middle class
Forbes magazine annually publishes a ranking of the richest people in the world. Already among the richest 100 billionaires, many are financing space research. However, list leader Jeff Bezos, along with entrepreneur Elon Musk, who ranked 34th this year, are not the main financial donors of private space. A new trend has emerged in this segment over the past decade: the main source of investment for space programs comprises middle-class citizens who invest in joint funds.
People who have the opportunity to invest from tens of thousands to several million dollars see an advantage in both long-term and short-term investments.
"The time when the state was the main investor in the space sector was eclipsed in the 1970s, at least in the United States. Undoubtedly, direct investments from NASA will continue to play an important role, but only on the condition that you provide services to the government," Max Polyakov said.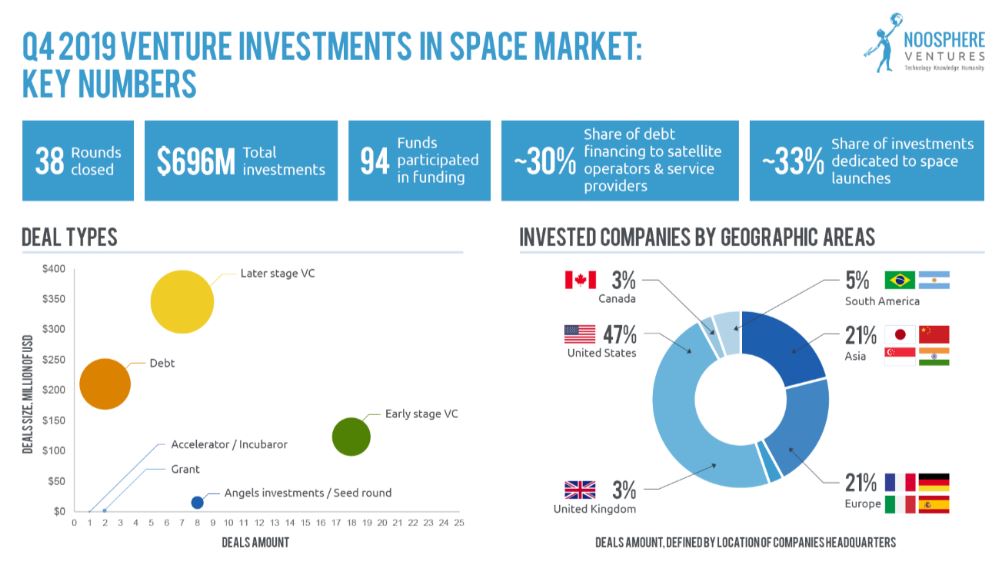 Private investment is not new in the space industry. The first private satellite, the Telsat 1 telecommunications device, was launched into orbit in 1962. Today, the annual income in the field of satellite communications is more than $100 million. Most of these companies are involved in the creation of both satellites and ground stations, as well as software, are open joint stock companies and receive financial injections from thousands of middle-class investors.
However, if we talk about a new round in space exploration known as NewSpace, entrepreneurs who create their own launch vehicles come to mind.
NewSpace
During the early 2000s, with the advent of new players in the space business, such as billionaires Musk and Bezos, everything changed. Smaller players, such as Firefly Aerospace, began to attract external investment for company development. According to the investment bank Goldman Sachs, between 2010 and 2018, investors invested $14 billion in space companies. This is not counting the funds of billionaires who invest in their own enterprises.
Financial participation in the private space sector
It is safe for small investors to invest through joint funds, whose "space portfolio" is the primary – but not sole – one. This is the best way for those who want to moderately increase revenues, but who do want to invest too much money and take too much risk.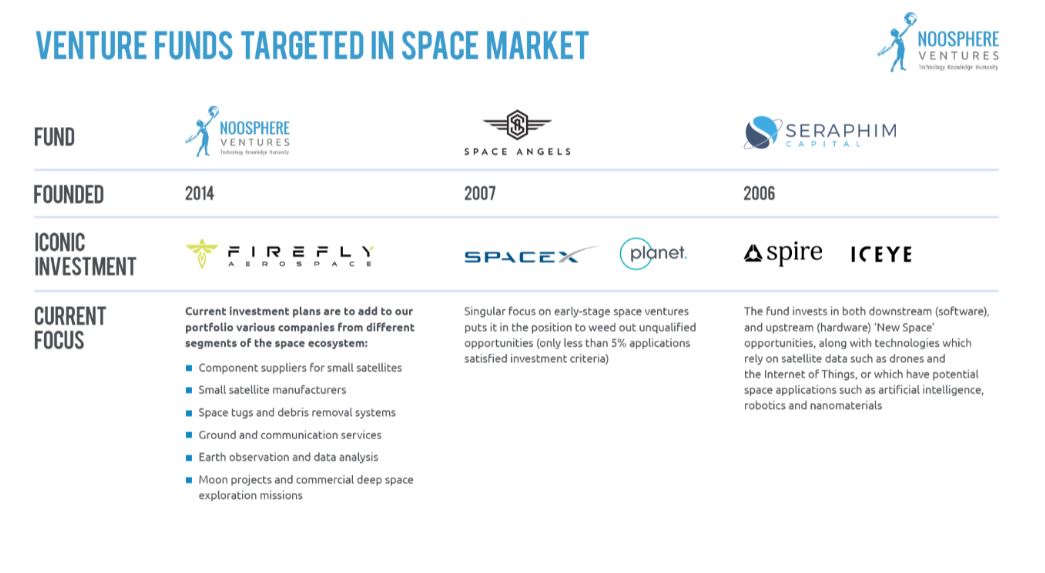 Some investment funds focus solely on investments in the space segment and can invest in entire companies, as well as in promising startups. The ability to increase returns on investments increases exponentially, but the risks grow proportionally. The largest of these specialized funds are Space Angels, Noosphere Ventures and Seraphim Capital.
Financial trends
2019 was a record for the space business in terms of attracting investment. According to Noosphere Ventures, today investments are generally growing, but not in all areas where new projects appear.
Max Polyakov, Managing Partner of Noosphere Ventures - "The total volume of venture investments in the space industry reached $3.3 billion in 2019, an increase of almost 30% compared to 2018. Interest in the industry will continue to grow and in five years could reach tens of billions of dollars, even taking into account crises that could occur over the next year or two."
Investors are most interested in light launch vehicles and small space devices. Investors are attracted by the ability to launch small satellites with the help of cheap and quick-to-assemble rockets with relatively low lift. The second most attractive area is the production of satellites and ensuring their functionality.
"The need for launches far exceeds capabilities. If you now want your payload to get launched, you must pay the full cost of the launch and wait two years," businessman Max Polyakov said.
Data show that the rocket and satellite segment of the sector is completely separate from other space projects. In 2019, 75% of the total investment amount was attracted to these two categories. Investors' interest in companies that analyze satellite images or other information received from orbit has also significantly decreased. According to Seraphim Fund, such companies received only 7% of the total investment. There is no company that can repeat the success in raising funds for the Mapbox mapping service, which raised $164 million in 2017.
As in previous years, the main part of financing in 2019 was received by American companies, which accounted for 48% of investments. Asian and European companies account for 21% of the global volume.
By the maturity of enterprises, the lion's share of investments last year was taken by the largest private companies - SpaceX, Blue Origin and OneWeb. However, transactions at an early stage also remained significant and accounted for 72% of the total investment rounds.
"Such a stable growth both in the upper and lower parts of the funding funnel is a key factor for the healthy development of the space economy," Max Polyakov said.
To infinity and beyond
According to estimates of Morgan Stanley Investment Bank, by 2040 the space market will reach a trillion dollars. Investments in this area will affect a number of industries outside of aerospace and defense activities - primarily IT, telecommunications and cybersecurity. In the medium term, space tourism will develop and mining equipment will be sent to asteroids. Shipments made today by airplanes and trucks today may very well be transported by rockets in the future.
But despite the optimistic forecasts of analysts, most investors still look towards short-term investments, which may affect their portfolio as early as 2020. And here, experts see the greatest opportunities in the field of satellite broadband Internet access.
Noosphere Ventures is a space-focused investment firm. Founded in 2014 by Max Polyakov, the firm makes venture and traditional investments. Headquartered in Menlo Park, California, USA, Noosphere Venture invests in projects from all over the world. They are mainly focused on space and development of the NewSpace concept, as well as in underperforming businesses. Noosphere Ventures has developed ecosystems of Space-technology.
The fund has invested over $100M in launch vehicles provider Firefly Aerospace, having saved the company from bankruptcy. Noosphere's space portfolio also includes over 20 projects. Among them are the Earth observation data analytics platform EOS DA, Space Electric Thruster Systems (SETS), EOS SAR constellation, D-Orbit, etc.
This article does not necessarily reflect the opinions of the editors or management of EconoTimes.