FxWirePro: Swedish Krona rebounds from over 2-week low on better-than-expected economic data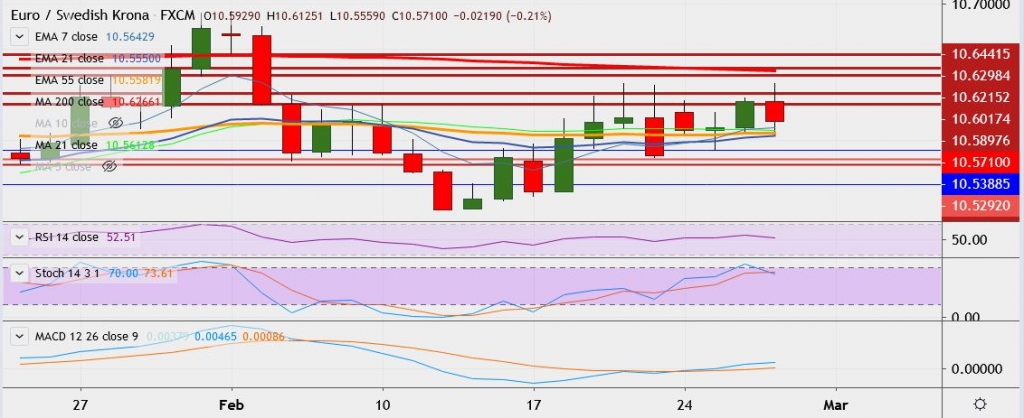 Thursday, February 27, 2020 11:49 AM UTC
The Swedish Krona rebounded from an over 2-week trough hit earlier in the session following upbeat economic data.

Sweden's consumer confidence indicator rose to 98.5 in February from an upwardly revised 92.7 in the previous month and above market expectations of 98.2, its highest level since September 2018.

Separate data showed, the country recorded a SEK 9.9 billion trade surplus in January, wider than a SEK 1 billion surplus a year earlier, its highest trade surplus since July of 2010. Moreover, retail trade rose 0.9 percent from a month earlier in January, reversing a 0.9 percent decline in December and surpassing market expectations of a 0.9 percent fall.

However, the upside in the Swedish currency appears limited as the economy's producer prices decreased to 113.20 points in January from 114.30 points in December, while industry confidence indicator declined to 97.1 in February from an upwardly revised 97.5 in the previous month.

EUR/SEK trades 0.2 percent down at 10.5731, having hit a high of 10.6125 earlier, its highest since February 4.

Technical indicators are bullish: RSI strong at 52 and MACD supports upside.

Stochs indicate a bearish crossover, a minor dip likely.

Immediate resistance is located at 10.6202, any close above could take it near 10.6280.

On the lower side, support is seen at 10.5534 (21-EMA), break below could take it till 10.5410.

Recommendation: Good to sell on rallies around 10.5894, with stop loss of 10.5994 and target price at 10.5534.