The monetary policy announcement at the ECB is the most notable event today. As nothing meaningful is expected from Draghi, the price rallies of EURUSD have halted at neckline and oscillate between the mid-points of the current 1.1510 to 1.1800/1.1850 range. ECB policy has proved a modest disappointment for EUR as the last meeting deferred a hike until at least autumn 2019 even as QE is set to end this December, albeit subsequent commentary points to divisions in the council over the exact timing of the first hike.
Bearish EURUSD scenarios:
1) ECB delays hiking until 2020 as growth and core inflation struggle.
2) Faster US corporate repatriation.
3) Excessive fiscal loosening in Italy (2-ppt+)
4) US auto tariffs
Bullish EURUSD scenarios:
1) Growth rebounds to 2.5-3% by mid-2018;
2) ECB becomes more comfortable with progress on wages and core inflation and softens calendar-based rate guidance.
Europe's migrant deal is potentially significant for EUR as this issue has detracted from what has been a steady normalization in the European data flow. With political risk now subsiding, there's scope for EUR to modestly rebound in line with neutral data surprises.
OTC outlook: Implied volatility skews of 1w tenors have been well balanced on either side, that means both bulls and bears are on equal advantages.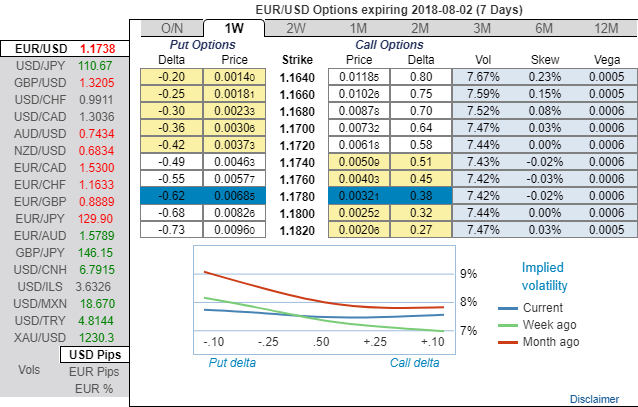 The positively skewed IVs of EURUSD of 2m tenors signify the hedging interest of bearish risks.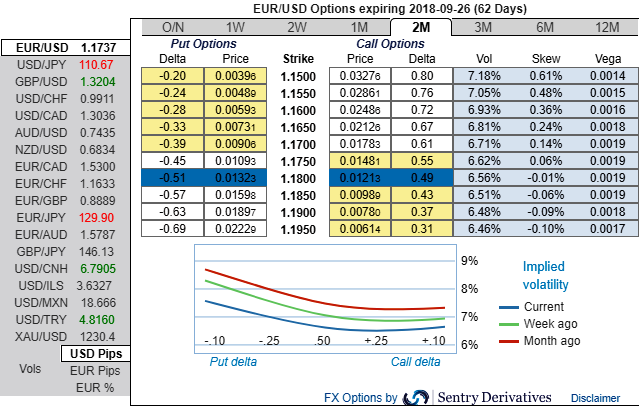 Same has been the case with risk reversal indications. RR numbers of 1w-1m expiries show mild bullish risks in short-term. While bearish risk sentiment remains intact in the long-run (refer long-term risk reversal numbers).

Contemplating above-stated driving forces and OTC indications, as shown above, accordingly options strips strategy is advocated on both trading as well as hedging grounds. The options strips strategy which contains 3 legs needs to be maintained with a view to arresting price downside risks.
Option Strategy: Options Strips
Combination ratio: (2:1)
Rationale: Considering the bullish (in near-term) and bearish technical environment (in long-term) and most importantly, the skews in the sensitivity tool indicate hedging sentiments for the bearish risks, these risks are coupled with bearish risk reversal numbers.
The execution:
As shown in the diagram, initiate long in 2 lots of EURUSD at the money -0.49 delta put options of 2M tenors, go long 1w at the money +0.51 delta call option simultaneously.
The strategy can be executed at net debit with a view to arresting FX risks on both sides and likely to derive exponential returns but with more potential on the downside.
Currency Strength Index: FxWirePro's hourly EUR spot index is inching towards -11 levels (which is neutral), while USD is flashing at -107 (which is bearish) while articulating at (08: GMT). For more details on the index, please refer below weblink: