The BLACK token of eosBLACK was listed on Cashierest, one of the domestic cryptocurrency exchanges.
All members of the Cashierest exchange are now able to trade the tokens freely into Korean Won (KRW).
eosBLACK is a blockchain ecosystem that provides the selected DApp developers participating in the ecosystem with the resources required for development at no cost, and that allows participating members to be fairly rewarded for their participation through a blockchain network based on EOSIO.
As the selected DApp developers participating the eosBLACK ecosystem can receive free computing resources and can develop the DApp without ICO fundraising, they are restrained neither by resource factors nor any legal restrictions pursuant to ICO.
In addition, airdrop is implemented only for members who have staked BLACK tokens, resulting in an increase in the amount of staking to induce higher coin prices. As a result, the paid tokens can serve as an incentive to draw members' voluntary participation in the ecosystem by securing liquidity through their own DEX.
eosBLACK implemented an airdrop for those who had EOS coins on July 20, formed a community partnership with KOREOS on August 2, and successfully hosted a developers' meetup for the development of the EOS ecosystem on October 4. The eosBLACK team shared practical experience, skills and technology they had acquired during the development process with the developers and received a positive response.
eosBLACK did not perform any additional listing events such as airdrops to prevent a decrease in token prices due to the amount given out during such events.
Recently, eosBLACK attracted much attention among influencers and investors for being an EOSIO multichain capable of loading its own DApp with the EOSIO Multiverse, leading to an upward movement in the price of Black tokens.
CoinMarketCap Top 100 cryptocurrency market capitalization, recorded on 17th / Source: coinmarketcap.com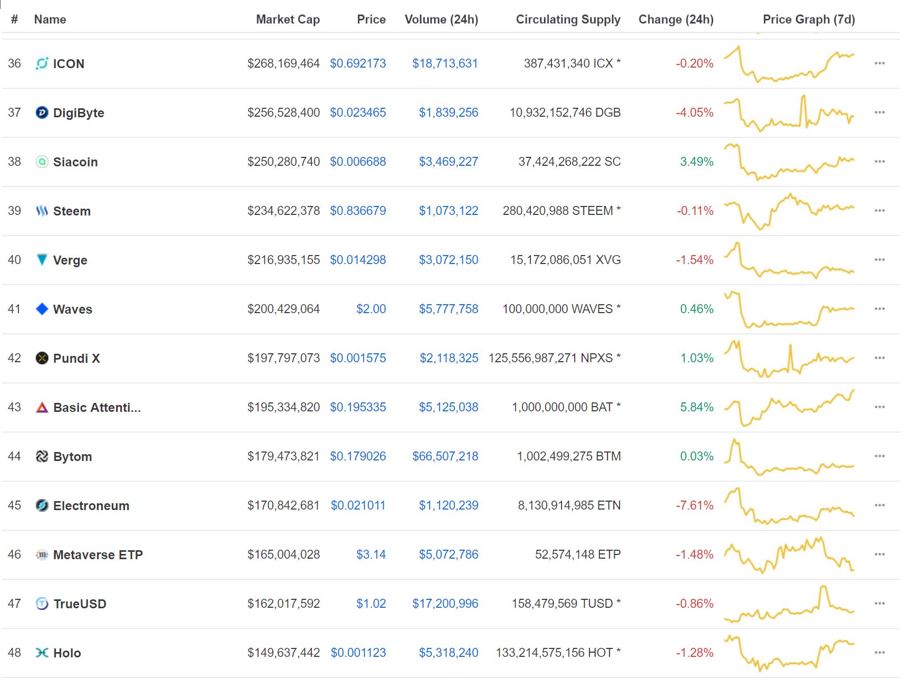 The BLACK token has the highest rate of growth and market capitalization amongst all airdropped tokens, and its market capitalization on eosflare.io, a blockchain search website, hit $170 million on 17th, which was higher than Metaverse ETP, a coin ranked 46th on CoinMarketCap.
In addition, the emergence of phishing websites attempting to steal cryptocurrencies after creating similar websites to eosBLACK shows its growing global popularity.
The BLACK token is also receiving steady attention from the market for having the highest daily trading volume in the BigONE exchange as well as two of the decentralized exchanges, DEXEOS and Newdex. The eosBLACK said, "Thanks to people's much interests in the BLACK token, we will work hard towards the development of the EOS ecosystem and grow into a next generation platform.
Starting with a Korean crypto exchange, Cashierest, eosBLACK is planning on listing the BLACK token on large domestic and international exchanges.
This article does not necessarily reflect the opinions of the editors or management of EconoTimes