NFP report preview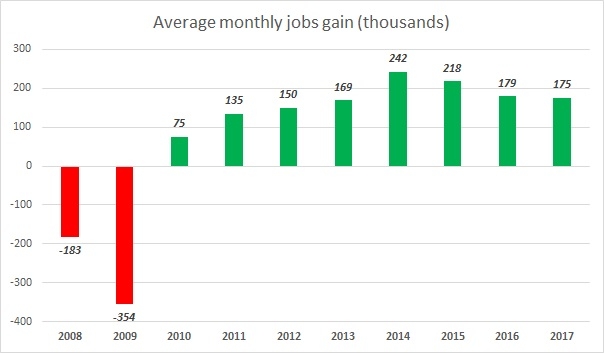 Friday, February 2, 2018 12:33 PM UTC
Today January NFP report is to be published at 13:30 GMT from the US.
What is NFP report?
NFP or non-farm payroll report is the monthly statistics on labor condition in the US released by US department of labor statistics. The report comprises goods, construction, and manufacturing sector companies.
This report influences the financial markets deeply across asset class.
Key highlights –
The headline number for total hires last month was 148,000. January ADP employment number was encouraging at 234,000 after November's highly encouraging 245,000.
Today payrolls are expected at 180,000.
The second most vital component is wage growth which as of now is showing healthy growth of 2.5 percent. Today expected at 2.6 percent y/y.
The labor force participation rate is showing no signs of rebound. It was at 62.7 percent, in the last report.
The unemployment rate is expected to remain same at 4.1 percent.
The underemployment rate is expected to improve further from current 8.1 percent.
Average weekly hours were previous 34.5; No major change is expected.
Impact –
The immediate impact is usually very volatile and likely to affect the majority of the asset classes.
A strong report especially the headline number (above 225,000) and wage growth could lead to a recovery in the dollar which has been struggling recently.
Dollar selloffs could accelerate on a materially weak report of headline below 150,000. The dollar index is currently trading at 88.7, up 0.22 percent so far today.