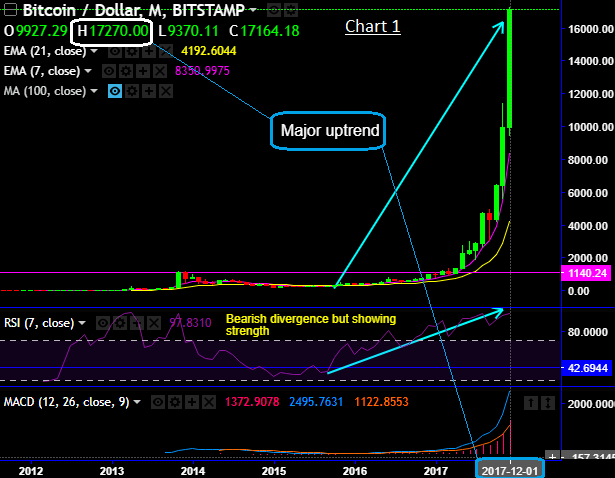 The journey from $751.34 to a whopping $17,270 (at BITSTAMP exchange), or 2,199% in this year so far with a fortnight trading spare:
Bitcoin price analysis – BTCUSD surged to almost a mammoth 195% in this month.
Risk-averse gamble on asset bubble at this moment, recent critics are such as, "Warren Buffet famously compared Bitcoin to rat poison, and JPMorgan Chief Mr. Jamie Dimon has termed cryptocurrency as a fraud, again criticized bitcoin and digital currencies as a "novelty" and said they are "worth nothing." On the flip side, another IB giant, Goldman sees Bitcoin "Broadly Heavy".
Amid all these speculations, we at EconoTimes would vouch for the fact "be cautious on booming cycles to boost-up long-term bulls' sentiments".
We uphold and substantiate this caution audaciously and absolutely with the historical statistics. Please take a glance through the above shown technical charts that run us through 3 booming cycles:
Well, let's just plot monthly chart as of the date (refer chart 1), you would arrive with the steep up curve that has begun with a linear curve.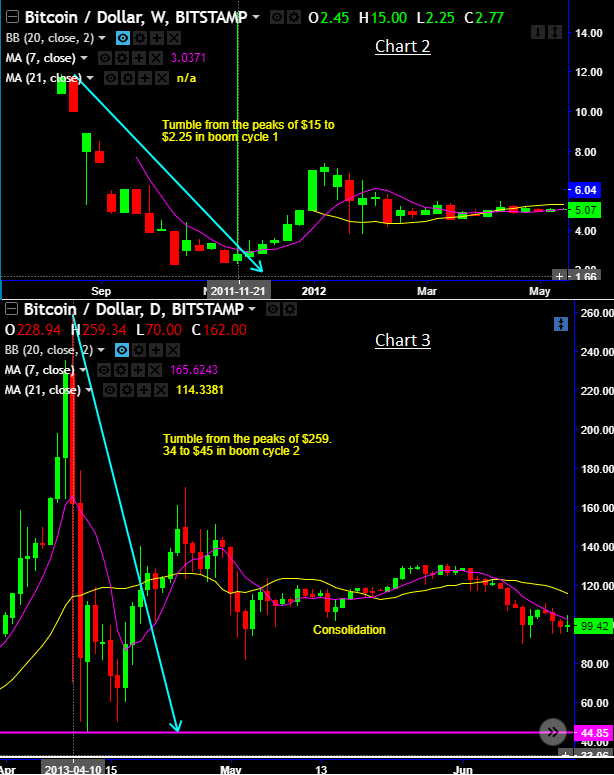 Now, let's just magnify and then scroll to the left, zoom it and glare at the beginning of the pricing since 2011 for the boom cycle 1, you would probably be amazed by the flat line looking like steeping down from top left to right. That's when the prices have tumbled from the peaks of $15 to the lows of $2.25 levels or a drop of 566% approx. (Please note that there were boom cycles earlier than this period).
Let's just visualize, the folks who had involved by then in this asset class during course of this crash would have interpreted, can't you see "Bitcoin prices are dying"
Well, maybe yes, but not so soon, let's proceed with the boom cycle 2 (refer chart 3):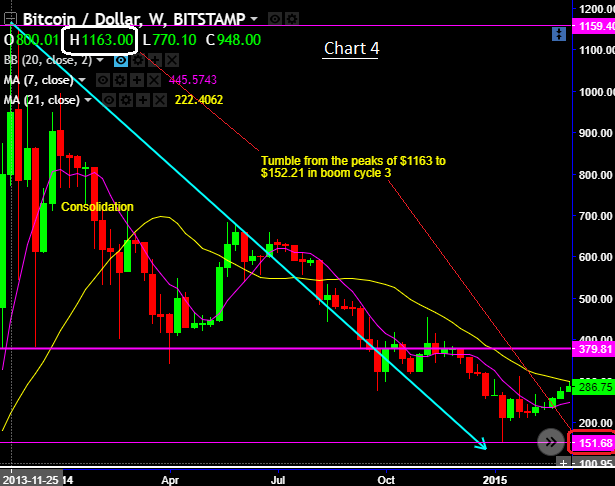 After surpassing the dollar parity, the crypto that was deemed to be still in R&D stage has again tumbled from the peaks of $259.34 to the lows of $45, leading to the skeptics and another reason to scream "bitcoin is collapsed and no life again".
The story never stopped here, if you look at the chart 4 that evidences the tumble from the highs of $1,163 to the deep tunnels of $151.68 in the booming cycle 3.
Dear readers, when an industry or a product that's newly invented or maybe still under inception stage, such sort of speculative moves are quite common if you consider the lifecycle. Remember, if this's the case with any industry or a product, bitcoin has been currency system and it is yet to evolve.
We at EconoTimes, consider this as an underestimation if the critic says Bitcoin has had an eventful week for nothing, starting December at around $10,000 and stopping to a whopping $19,000 mark on last weekend (some exchanges traded over $20,000). While the bull-ride has been exciting, many, including American broadcaster Max Keiser perceive it's majorly driven by the underlying news and the professional investors pouring money into the cryptocurrency industry on the back of the news.
We are still talking about 10 times gains from here in the medium term. It (Bitcoin) would outperform stocks, bonds, gold in the days to come.
By Niranjan Patil