FxWirePro: USD/INR slips below 71.50 mark, bias remains bearish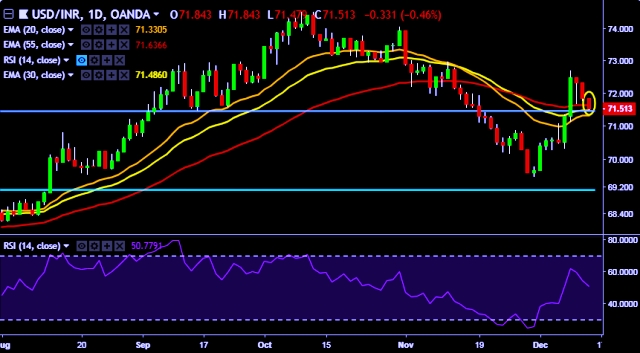 Thursday, December 13, 2018 5:59 AM UTC
USD/INR is currently trading around 71.41 marks.

It made intraday high at 71.84 and low at 71.39 marks
.
Intraday bias remains bearish for the moment.

Key resistances are seen at 72.02, 72.47,72.86, 73.27 and 73.70 marks respectively.

On the other side, initial supports are seen at 71.12, 70.57, 70.27, 69.87, 69.66, 69.34, 69.02, 68.65 and 68.15 marks respectively.
Important to note here that 20D, 30D and 55D EMA heads down and confirms the bearish trend in a daily chart.

India's NSE Nifty was trading around 0.66 percent higher at 10,808.58 points while BSE Sensex was trading 0.70 points higher at 36,038.55 points.
We prefer to take short position on USD/INR around 71.50, stop loss at 71.90 and target of 71.12.