Australia's hidden opportunity to cut carbon emissions, and make money in the process
Nov 04, 2019 11:48 am UTC| Insights & Views Economy
Its no secret that cutting down trees is a main driver of climate change. But a forgotten group of plants is critically important to fixing our climate and they are being destroyed at an alarming rate. Mangroves, tidal...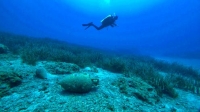 Seagrass, protector of shipwrecks and buried treasure
Nov 04, 2018 13:11 pm UTC| Insights & Views Nature
For more than 6,000 years, seagrass meadows in Australias coastal waters have been acting as security vaults for priceless cultural heritage. Theyve locked away thousands of shipwrecks in conditions perfect for...