A warehouse terminal in the vicinity of Moscow's famous Food City has been earmarked for development for another major project in 2020. The area comprises 145,000 m², and is situated alongside the original Food City – the Russian agricultural cluster which happens to be Russia's biggest agro-food cluster, owned and operated by businessmen Zarakh Iliev and God Nisanov.
The warehouse terminal will be commissioned by the Kievskaya Ploshchad group of companies, and it is a stand-alone building, six floors tall. The facility will feature fully equipped tenant freezers, refrigerators, electrical power, ventilation systems, engineering systems and production facilities, et al. Freight elevators with 5-ton capacity will be provided, in addition to fire management alarms and extinguishing systems.
The office area will cover 30,000 m², and a hotel featuring 550 rooms will be built. The office centre and the hotel will rise 18 floors, with public catering services filling 1,500 m² of space. With the massive infrastructure expansion plans, second-stage surface wastewater and household wastewater systems will be developed. The Food City wholesale food distribution center was built in 2014, and sits on 22km of the Kaluga Highway in Moscow. The complex covers 120 ha of space. As the first Russian agricultural cluster of its kind, Food City is an impressive establishment with copious amounts of fresh produce available to retail and wholesale customers. This unique marketplace is home to 132 wholesalers and a number of small wholesale warehouses.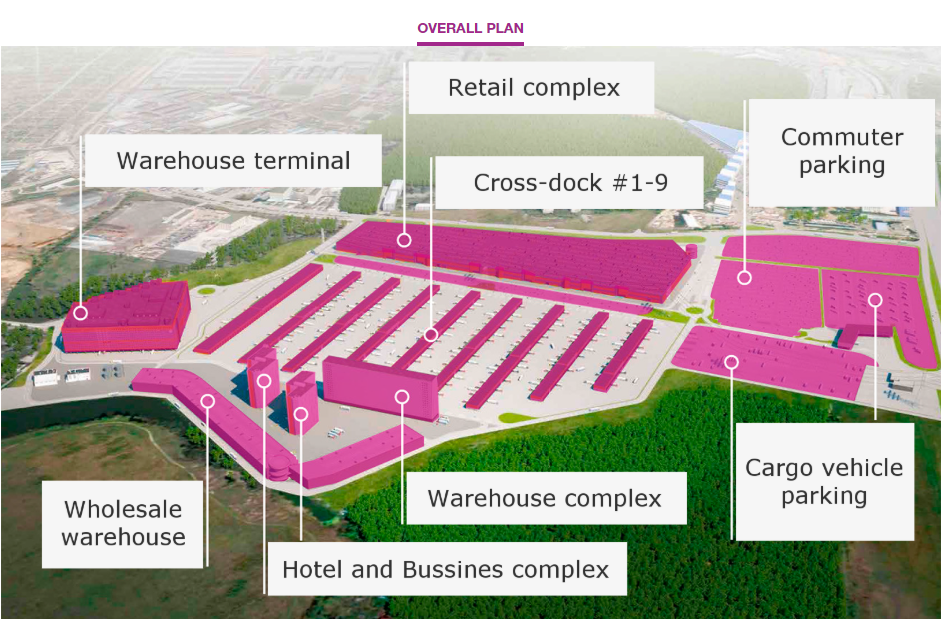 Source: FoodCity
All wholesale produce is guaranteed fresh, and delivery sizes range from truckloads on the top end to a few pallets. Warehouses are available for rental and retailers and/or wholesalers can easily equip them at their leisure. Each store has its own loading and unloading areas for greater convenience. Food City also offers long-term warehouse rentals to clients, with a full spread of value-added services for retailers, wholesalers and customers. The development company's scope of operations encompasses multiple other mega complexes such as the Olimpiysky sports complex, the Radisson Collection Hotel, the Grand furniture retail complex, and the Evropiesky shopping centre. All in all, this company operates 3,000,000 m² of real estate across Russia.
Food City in the UAE?
The rumour mill has been working overtime regarding the construction and development of a Food City project in the UAE. There are ongoing discussions between the Emirates and the Russians about bringing Food City concept to the UAE. The Minister of Food Security recently indicated a desire to bring the Russian-style Food City system to the UAE. According to the Minister, '… I had a chance to visit Food City in Moscow. This is a great example of how to collect products from all over the country and create a hub for deliveries. Now we are negotiating with the Russian side on the construction of such a Food City in the UAE, then to create a hub for Asia and Africa…' It is estimated that Food City could become hugely popular outside of Russia, serving a global market 3 billion people.
This article does not necessarily reflect the opinions of the editors or management of EconoTimes.