CBD, marijuana and hemp: What is the difference among these cannabis products, and which are legal?
Apr 04, 2021 09:49 am UTC| Health
New York recently became the 15th U.S. state to legalize cannabis for recreational use. While 67% of U.S. adults support marijuana legalization, public knowledge about cannabis is low. A third of Americans think hemp...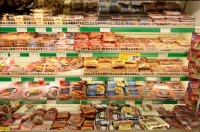 Government restrictions on labeling products as 'meat' aren't likely to help anyone
Oct 09, 2019 11:30 am UTC| Insights & Views Health
Substitutes for traditional meat products have captured the attention of investors, the media and consumers. Plant-based meat options are showing up in grocery stores and on the menus at fast food chains like Burger King...