FxWirePro: USD/CAD trades lower on strong oil price, good to sell on rallies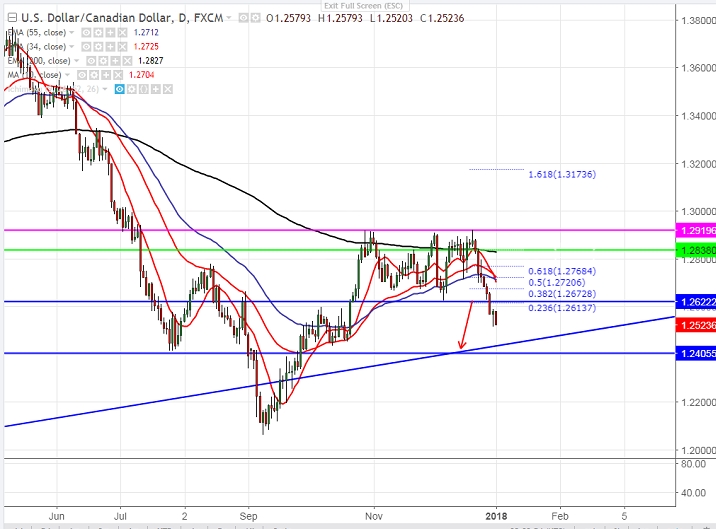 Tuesday, January 2, 2018 9:24 AM UTC
CAD outperformed USD and enjoyed more than 7% rally in 2017. USD/CAD declined sharply after forming temporary top around 1.37935 in May 2017 till 1.20613. The main reason for the rally in Canadian dollar is due to monetary policy of Bank of Canada and oil price. BOC hiked interest rate twice in 2017 and further movement in CAD depends on hawkish or dovish policy stance of central bank. US oil post strongest year opening since 2014 on account of unrest in Iran. It hits high of $60.71 and is currently trading around $60.48.

The protest broke all over Iran against ruling Government extending for a fourth day is also supporting oil price.

Technically, major short term support is around 1.2500 and any break below will drag the pair till 1.24300 (Oct 2017 low). Short term weakness only below 1.2430. Overall bullish invalidation only below 1.2060.

On the higher side, near term major resistance is around 1.2640 (5- day MA) and any break above will take the pair to next level till 1.26725 (10- day MA)/1.2738 (10- day MA)/1.2760/1.2805. Short term bearish invalidation only above 1.2925.
It is good to sell on rallies around 1.2550-55 with SL around 1.2600 for the TP of 1.2430/1.2300.