GameStop is widely known for its solid rules when it comes to processing refunds, but it is reportedly going to make an exception for "Cyberpunk 2077." This comes at the heels of Sony and Microsoft's announcements that they will reimburse console gamers who were left unsatisfied with the game's chaotic launch.
'Cyberpunk 2077' could force GameStop to accept refund requests
The video games and electronics retailer usually processes a full refund if the game involved has not been opened yet and it is being returned within seven days from the date of purchase. However, an internal memo is said to be changing that practice, at least for the case of "Cyberpunk 2077."
A source shared the said memo to Kotaku where GameStop employees have reportedly been instructed to accept "Cyberpunk 2077" refund requests. Customers who purchased the game for PlayStation 4 and Xbox One might still get their money back even if their copy has been opened, according to the letter.
As of this writing, GameStop's official pages has yet to announce its special refund policy for "Cyberpunk 2077." The said memo also reportedly indicated that the full refunds could be provided within 30 days from the date of purchase. Once the game is returned, the retailer has purportedly told its staff to label it as "defective" for inventory purposes.
How to get 'Cyberpunk 2077' refund on PlayStation, Microsoft Store
In less than a week after the release of "Cyberpunk 2077" on Dec. 10, CD Projekt Red addressed the growing disappointment over the game's performance on last-gen consoles. Along with an apology and a promise to deploy big patches in early 2021, the studio also announced that digitally purchased copies can be refunded through the online stores of Sony and Microsoft.
Sony has now put up a special page on the PlayStation website where "Cyberpunk 2077" refunds can be initiated. Customers will have to first answer a form to start the process of getting a full refund.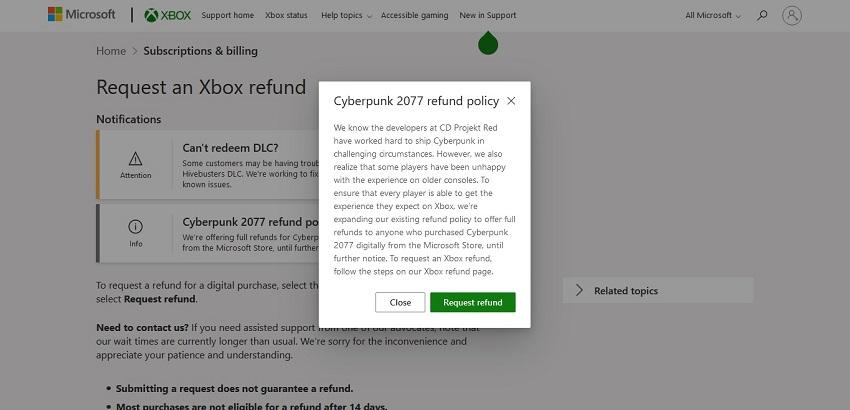 Screenshot from Xbox Support
Microsoft has also announced it is offering full refunds for Xbox players left unimpressed with "Cyberpunk 2077." To request a refund, visit this Xbox support page and click on the "Cyberpunk 2077 refund policy" notification. A pop-up prompt will appear with Microsoft's message along with a "Request refund" button.